Powerful Laptop Speaker and a USB Message Fan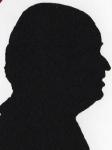 First a rather nice small but powerful laptop speaker from Altec Lansing called the Orbit USB. Second another offering from Brando in Hong Kong, this time a clip on USB fan or course there is also an extra, quite small but it still very efficient.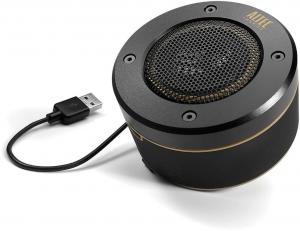 Altec Lansing Orbit iML237
While this is described as a notebook speaker I see no reason why it should not be used with a desktop system – in fact I did with one of my tests – as the sound is a lot better than say cheap small speakers often found in a panel.
It uses USB sound, so even if your sound card or chip is knackered there is no reason why you should not enjoy wonderful sounds from your PC or Notebook. Indeed some of the recent Netbooks have really nasty sound.
It is as simple as plugging the speaker in to any USB slot, nothing else no audio lead no power lead nothing. Windows thinks for a few seconds and after a few messages appear in the tray you are up and running with lovely clear crisp sound.
The unit is round 8.5cm across and 5cm deep the USB lead is hard wired and wraps around under the unit is 40cm long.
I could leave it at that but as I knew the box had a false bottom I investigated it has the obligatory booklet of warnings and legal jargon. There is a getting started sheet with two diagrams showing connection and then adjustment to the sound slider in the toolbar. However there are a couple of roundels to allow you to turn a nice sober black Orbit into something far more funky using the strips provided. There are also two offers of free downloads. The first from emusic offers 35 free songs and one audiobook. The second from audible.com offers a free download. Finally a case to allow you to move your Orbit wherever you go, all rather nice bonuses.
Doing my Internet searches found the Altec Lansing Orbit iML237 at a best price of £21.90 including free delivery from the first link below.
http://www.amazon.co.uk/gp/product/B002TLVIYU?ie=UTF8&tag=gadge0a-21&linkCode=as2&camp=1634
http://www.alteclansing.com/iml237-orbit-usb-ultra-portable-speaker-for-laptop-notebook-netbook.html

click image to enlarge
Message Clip Fan
Yes another offering from those clever people in Hong Kong Brando. Of course they have produced more than just a portable USB fan (orange or blue) that clips onto any surface with a strong clip up to around 2cm thickness.
Once plugged in you and program the fan to display up to a 16 character message, numerals and alphabet are built into its memory together with another 21 symbols. On the clip are three buttons forming a circle the one on the left is alphabet, the one on the right symbols and the bottom one a confirmation button. Once you have sequentially programmed your message you can use the push button switch on top of the unit to turn it off. However do not remove the USB power as if you do your message will be lost.
The message strip is 4cm across but as it shows only when the fan is rotating it appears to be 9cm in circumference.
From the base of the clip to the top of the fan is 10cm, if I have a small criticism it is that the spring on the clip is rather too strong, yes it needs to be strong to fight the air that the fan produces but to me anyway its very strong. However if the spring was not strong enough it would not stay put so its probably better to be that way.
Available from the link below for $16 US plus $3 US post and packing whatever the size of your order.
http://usb.brando.com/usb-led-message-clip-fan_p01531c049d15.html