Verbatim Audio Cube

Published Dec 1, 2009 Author
petew
Review controls
Verbatim take advantage of bluetooth media players to ditch the wires!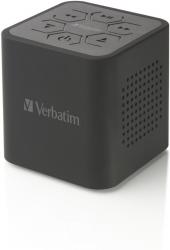 click image to enlarge
Wires? Not needed - simply hook up the Verbatim Audio Cube to your favourite Bluetooth equiped media player and you're away!
Bluetooth has migrated from the mobile phone to the media player, although in many cases it is in fact the media player that has migrated to the phone! Either way some very good quality, high capacity media players now come equipped with Bluetooth (with of course the very notable exception of the iPod range - come on Apple - catch up!).
While Bluetooth on those devices is a useful way of replacing tangled headphone leads with a nice wireless headset. For those times when you want to share your music with others the Audio Cube is a great idea. Working with any media player supporting the A2DP Bluetooth profile you can use this one speaker without needing a specific cable for each device.
The speaker is powered by either batteries or via a USB power supply. The product comes complete with a suitable cable although the connectors are standard. You could also use a stand-alone USB power adaptor (not supplied). Battery power is I think more likely given you didn't want wires! This takes the form of 4xAA batteries, one set of which is included with the product. A new set should give you playback time of around 6 hours. Unfortunately the battery compartment is a tad too small to make rechargeable an option unless you can find some that are marginally slimmer than the market leader - an unfortunate problem I've encountered on other products and most probably due to the battery manufacturers pushing the AA spec to the limit, or slightly further!
Each face of the cube is 70mm squared. The top face of the cube holds the controls - on/off, volume and track skipping. Looking from the front the left and right sides each contain a 50mm speaker giving a combined output power of 2W (RMS).
I had no problems at all pairing the speaker with my Sony Ericsson W995 mobile and once paired playback was good quality and surprisingly loud! The controls on the speaker worked fine through the standard Bluetooth interface to move back and forward through tracks.
If you want to use the speaker with a non-bluetooth device (maybe you have an iPod as well as your clever phone) then you can connect with a standard 3.5mm jack - and a cable is provided for this.
Receiving a call on my phone during playback worked perfectly - as soon as the phone rang the music faded out and I was able to take the call. Once completed the music picked up where it left off.
The Bluetooth wireless capability provides this product with some great benefits: no need for proprietary cables to connect; no cable of any kind to loose; ability to answer calls (if using a phone) without disconnecting cables; standards based so compatible with any manufacturers phone that support the standard - most that support media playback and bluetooth!
The Verbatim Audio Cube is currently priced at £39.99 including free delivery from Amazon on the following link:
http://www.amazon.co.uk/gp/product/B002P5CTVG?ie=UTF8&tag=gadge0a-21&linkCode=as2&camp=1634
Further details are available on the Verbatim web-site:
http://www.verbatim-europe.co.uk/en_1/product_bluetooth%C2%AE-audio-cube_16884.html