Goodmans CD Micro System 1465i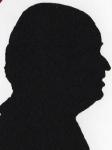 This unit has MW and FM radio, plays CD's of most types including MP3, can play MP3 or WMA from SD cards or Flash Drives, take input from USB or and for good measure supports a range of iPods.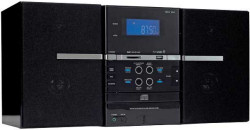 It is 22x15x24cm and shiny black in colour, it comes with two external speakers 22x15x17cm these are also black and should you wish you could also connect a sub woofer. The speakers output are 10watts each.
The front of the unit has a range of buttons inputs and sensors, unlike some items I managed to do most things direct from the buttons. However there is a remote control and certain more minor things like changing from 12hour to 24hour clock can only be done using the remote.
The FM band has a good length or wire aerial and the MW band has an internal aerial so reception could be a lot better with some turning of the main box.
There are six different iPod sleeves in the box and each fits into the bay on top of the unit. As there are so many different iPods I hesitate to say it supports them all.
Should you wish to listen discretely (it can be used as an alarm clock/sleep timer) there is an earbud socket on the front base of the unit where there is also an 'aux' input.
Like most FM radios the band starts at 87.5 so if your station is say 105.4 then you have a long way to travel but there is a fast button and after holding it for a couple of seconds the progress up the band is fairly rapid. Finger off and it still moves up the band but slower a press on the down button stops it. Find your favourite stations and put them on a preset there are 24 FM presets and 16 for MW.
Should you wish to be woken by music from a CD or iPod or in fact an SD card or stick drive make sure it is inserted and programmed for what you require. A 13 point guide in the 16 page user guide covers most possibilities.
The unit has a five preset equalizer Flat, Rock, Jazz, Pop and Classical.
CD's of not only standard audio types can be played as can those with MP3 or WMA files on. It can be set to repeat a whole CD, a single track skip certain tracks or programmed to play up to 32 tracks. I also see it can play a 10 second intro from all tracks. It can also read ID3 tags.
As far as iPod use goes you can use the 2,4,5,6 and 8 buttons on the remote to correspond to buttons on the iPod and volume can be increased/decreased by using the remote as well.
MP3 and WMA files on an SD/MMC card or USB stick drive are a toggle on the CD/USB/SD button on the unit or remote. I tested all these devices without any unforeseen problems.
However much a device gives you it is natural to want more and I find it disappointing not to have DAB or the ability to record to SD or stick drive. Still this is reflected in the price. I am sure if it had those extra abilities it would have cost a lot more.
Ideal in a bedroom or even a small lounge or kitchen.
Doing my Internet searches found the Goodmans Micro 1465i at a best price of £99.99 from the first link below.
http://www.argos.co.uk/static/Product/partNumber/5136357/Trail/searchtext>GOODMANS.htm