PicooZ Helicopter and Electro Mag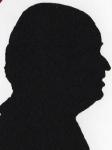 Two items for the older child the first a remote control helicopter with Auto-Stable technology and the second a toy of the year from the Science Museum Electro Mag. This is the first of my articles from this years Dream Toys event.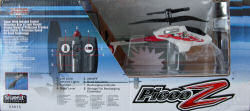 PicooZ Helicopter
The Picooz Helicopter is 16x3.5x7cm constructed from plastic and expanded polystyrene so is amazingly light. Looking at the box it seems there are three different coloured models in the PicooZ range. The one I have white/red, there is also white/blue and white/yellow.
Having recently got some digital scales I can tell you the exact weight 9 grams. So do not sneeze near it. The remote control is a totally different thing it is 16x13x4cm and weights almost 300grams with the required (not supplied) 6x'AA' batteries inserted.
The instruction state that charging the unit for 6 minutes flying time takes 30 minutes. A small lead is inside a tightly fitting compartment on top of the remote control. I needed a thin bladed screwdriver to open this as the slide motion was not going to oblige.
There are three channels so up to three people can perform with these units at the same time. There is a trim control slider and two joysticks to control the unit. Being so light means flying outside is not on and even indoors you certainly do not want to fly it near a strong draft.
In my tests I found the charge light on the remote goes out when the helicopter is fully charged.
Their web site says they are Guinness World Record holders for the smallest remote controlled helicopter. Doing my Internet searches found the red and white version I had at a best price of £17.99, including shipping, from the first link below.
http://www.amazon.co.uk/Silverlit-Radio-Control-Picoo-Helicopter/dp/B000FNUF8O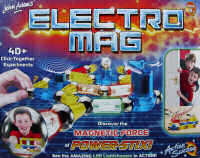 Electro Mag
I always wished to play with this sort of thing as a child and thoroughly enjoyed the testing of these experiments. The 52 page manual is essential and while it is stated as suitable for 8+ there is also the 'not suitable for less than 3 years because of small parts'.
The manual contains 41 projects all the pieces are colour coded and clearly marked. It goes through what each component is and what it does, no doubt this is the reason the box states it supports the national curriculum. So you get 12 wire connectors, 2 six volt lamps, 4 different resistors from 470 ohm to 100,000 ohm. 3 red LED's and one green LED, an NPN transistor and a PNP transistor, a capacitor and an integrated circuit. A variable resistor and a photo resistor, there is a 6 volt battery pack but this has an automatic circuit breaker so no nasty shocks. Finally for the contents a touch switch, a motor, a buzzer, 2 trip wires a length of enamel wire and twenty steel balls.
As with most items sold today the 4x'AA' required for the battery pack are not supplied but I am sure most parents know to have a supply handy or this will certainly be a present that does not spark.
Each page of the manual has a project and clear diagrams how to connect what. I would certainly have done better in science at school with a 'toy' such as this as it explains 'how' and 'why'. Certainly knowing 'why' is still important perhaps far more so than 'how', and or course, seeing something work really kicks into the mind.
This selection of experiments work and there is of course no soldering required as everything just clips together. Certainly many hours of fun and knowledge from this product. Available from the first link below at £29.99 including free delivery. Learn more about it from the second link below.
http://www.amazon.co.uk/gp/product/B000S84JS8