Canon PowerShot SX160IS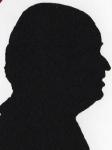 Review controls
This is a camera that a proportion of the users will love as it uses 'AA' batteries. It looks almost basic in its design however it offers a decent zoom and a large image size yet it is small enough to fit inside the majority of pockets.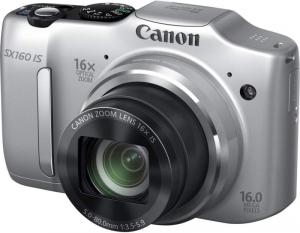 click image to enlarge
Almost all PowerShots used to run on 'AA' batteries, then in recent times they had solid batteries but still kept the very nice hand grip shape on the right side to allow a firm grip. This unit however runs on two not four 'AA' batteries and so the 'bulge' has gone. It is 11x7x4cm when off the thickness increases as soon as you switch on as the lens emerges by 2.5cm and this can increase by another 2.5cm when you are fully zoomed.
The right side has a snug fitting door to cover USB and HDMI sockets. The left side has an even snugger fitting door covering a small solid battery that keeps the time/date which of course becomes important if 'AA' batteries expire.
The base has the tripod screw and a door behind which you place the two 'AA' batteries and any SD card you use.
The face has the 16MP lens which also has 16x optical zoom. The flash is a manual pop up above the lens on the top and is always at least 5.5cm behind the lens. Also on top the ten position wheel, on/off button and shutter release with the zoom control around it.
This leaves the back that is dominated by the 6x4.5cm TFT display; just above this is the manual flash release button. To the right of the TFT is a thumb grip and to its right the instant video recording button. Below this to rows of two well marked buttons split by the ubiquitous five position joystick to complete the controls.
Still images can be captured in 16:9, 3:2, 4:3 or 1:1. There are four sizes L, M1, M2 or S. In 4:3 at 16MP that is 4608x3456. For those wanting to print an A4 image the M1 size has more than enough detail to complete this task.
Video can be captured in 1280x720 or 640x480.
All the above can be achieved perfectly well with the top wheel being in 'Auto' mode which for a novice user is ideal. However for those who know a little more or want to progress 'M' allows more choices like setting Aperture and Shutter Speeds. 'Av' allows you to Aperture while the camera selects the shutter speed. The reverse happens in 'Tv' mode. 'P' and 'Live' allow you make various changes. Portrait, Low Light, Snow and Fireworks are the adjustments available under 'SCN' mode. The next choice allows a number of strange effects to be made. Next is an image to display a 'Discrete' mode to sounds and no flash, finally the video mode.
As always with my reviews I concentrate on the basic features mainly because my review periods are short. For any novice user this camera will take pleasing images with little or no effort beyond 'point and shoot' as you would expect.
If however you delve a little deeper you can get even better images by learning about what the wheel settings above can give. I often print images on the various All In One units I review. For instance anything taken at M2 will probably be a disappointing print when brown up to A4. However a M1 image can be printed to show only a proportion of the image and a L image can be as little as 20% of the original image to give a pleasing A4 result. As I do not often get to look at A3 units I cannot often print to this size but of course the L mode can support this size comfortably.
I understand why some people prefer 'AA' batteries, I personally do not like them. To me the large bulge had a purpose other than to store the 'AA' batteries, so having two 'AA' batteries means less life and no wonderful grip.
Doing my searches found the Canon PowerShot SX160IS at £140.93 including delivery from the link below.
http://www.amazon.co.uk/gp/product/B0090XM87G?ie=UTF8&tag=gadge0a-21&linkCode=as2&camp=1634
www.canon.co.uk/For_Home/Product_Finder/Cameras/Digital_Camera/PowerShot/PowerShot_SX160_IS/