Nikon 1 V1 Kit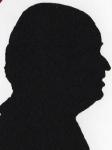 Review controls
Last year I was at the launch of the Nikon 1 camera, and although I asked several times to review it I never got to the top of the list. Now however Nikon have just launched the Nikon 1 v1 which comes with two lenses.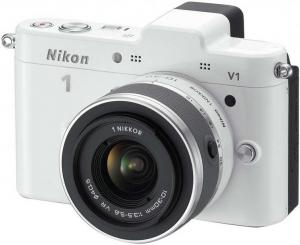 click image to enlarge
Most 'kits' come with something like a 28-55mm lens. With the Nikon 1 V1 kit you get a 10-30mm and a 30-110mm to give a wide range. You could also buy with just 10-30mm lens if you wished. Both are available in black or white.
Te Nikon 1 V1 compact system camera measures 11x7.5x8cm and once the smaller lens is released this increases the last figure by 3cm. The unit weights 500grams with the 10-30mm lens attached.
There is a neck strap provided but it small enough to be held comfortably in your hand. The left side has a door behind which are AV out, HDMI out and more unusually a connector for an external microphone. The top edge of the left and the right sides have connections for the shoulder strap. The base has the battery bay and this is where you insert any SD card you might use there is also a tripod mount which is very useful with the 30-100mm lens.
The top has an illuminated on/off button, shutter release and record button for video as well as a slider which removes to fit a flash shoe. The face has whichever lens you fit which have a nice locking motion to secure when not in use.
This leaves the back, you have a viewfinder and level with this a zoom wide angle review selection button which has an up and down motion. Beside this is the button to turn the TFT on/off. Below the viewfinder is a 6.8x4.7cm TFT screen which can also be switched off simply by placing your eye to the viewfinder, remove your eye and the TFT is switched back on, a very clever action. Next a four position wheel with to its left a thumb grip. Finally two rows of two well marked buttons with the ubiquitous five position joystick completing the controls.
There is a 228 page manual which I certainly needed once I delved into the numerous menu settings and what they do. I probably bore regular readers with my drum beating in favour of a printed manual but it is certainly the way to start understanding what is a very complex piece of kit. Every day I find new features to try.
The one thing missing is a built in flash but the low light capture is excellent so unless you are taking a lot of very dark areas then it hardly matters. Dusk is certainly not a problem for this unit and with a tripod and longer exposure the images are fine.
I think the Nikon 1 could well be the way for a digital camera user to step up. The –lack of – size and weight being huge plus points. Three images sizes are possible L, M and S, 3872x2592, 2896x1944 and 1936x1296. Image quality has five settings RAW + JPG, RAW, JPG fine, JPG normal and JPG basic, so 15 different file sizes are available to experiment with.
For video there are three settings 1080 60i, 1080 30p and 720 60p.
Move the wheel to Smart Camera Selector Mode and take a few portrait images you will be amazed at what the camera captures, the fleeting images that appear and disappear before you realize they are there to be captured. Best of all the camera selects the best images and places them in a buffer as soon as the shutter is pressed halfway. Once the shutter is fully pressed images are compared both before and after you pressed the shutter.
For anyone coming from a digital camera this can be very friendly and easy to use when you use the Auto setting, read the manual and learn and not only will you start to improve so will your images, this can still be point and shoot using either the TFT or the viewfinder but once you know more you can get far more out of this unit.
The Nikon 1 V1 is available from the link below for £583.38 including delivery.
http://www.amazon.co.uk/gp/product/B005NFVYWK?ie=UTF8&tag=gadge0a-21&linkCode=as2&camp=1634
http://www.europe-nikon.com/en_GB/product/digital-cameras/nikon-1/nikon-1-v1