Pentax WG1-GPS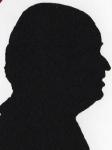 Review controls
A waterproof camera that can by the aid of GPS tell you where you were when you took the image or movie. I did not get a chance to test if the two features worked together; in fact the only waterproof tests were in my bath.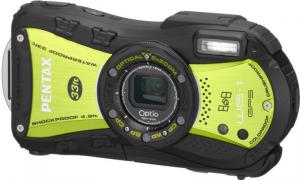 click image to enlarge
he Pentax WG1-GPS measures 12x6x2cm, these are maximum figures the zoom works on the periscope principle required for a waterproof offering. It is also quite sculptured with either end being 6cm tall but the middle only 5cm, it weights 165grams.
The right side has a substantial wrist strap which is useful if you take it underwater. The base has a slide door behind which is the solid battery and any SD card you insert. The left side has another slide door behind which are mini HDMI and AV connectors. There is or course also a tripod screw sensibly plasticized to prevent water damage.
The face has the lens centrally located with the flash above and to the left. My unit was black rubberised with a rather garish lime green strip across it, the latter would be rather useful if you dropped it. Rather unusual features are four LED Macro lights around the edge of the lens surround. The top has just rubberised on/off and shutter release buttons.
This leaves the back which has a 6x3.5cm TFT with the other controls to its right. These are a telephoto/wide angle rocker, image review button, menu button, face diction button, the ubiquitous five position joystick with its top level tasks clearly shown and below this the delete button.
Still images can be captured in 14MP, 10MP 1:1, 10MP 16:9,7MP, 5MP 16:9, 5MP, 4MP 16:9, 3MP, 2MP 16:9. If I did not state after the MP size the image capture would be 4:3. Video can be captured is 1024 or 640. However each of the eleven mentioned capture sizes can be one, two or three stars in quality which affects the overall size of the file.
There are four pages of adjustments that can be made in the recording mode. There are also three and a half pages of adjustments on the settings menu. This includes an alarm setting which I have not noticed on other such units.
Among the 'tough' features of this unit are waterproof to 10metres, shockproof to 1.5metres, crushproof to 100KG and it will withstand -10degrees centigrade. I am afraid I did not test any of these features to destruction.
The Geo-Tagging feature allows you to accurately record where any image was taken and this feature works well.
I found the macro LED lights a little strange but it does allow a digital microscope mode that seems to work as stated.
You can store up to 32 faces in this camera not just humuns as it can also recognise those of animals. The self photo feature uses the blinking lights on the face to tell you if you are centered in the framed image. There are other features not mentioned or tried due to tight time restrictions on the review period see the second link.
The 5x optical zoom with wide angle did allow me to get more into a close framed image than with a lot of other small units.
This is a specialised unit designed for a tough life and also for underwater use; the macro LED lights take getting used to as does shooting very close up. If you need any – or all – of these features you should certainly consider this unit.
Doing my Internet searches found the Pentax WG-1 GPS at a best price of £207.22 including free delivery.
http://www.amazon.co.uk/gp/product/B004N3C2I8?ie=UTF8&tag=gadge0a-21&linkCode=as2&camp=1634