Ricoh PX Digital Camera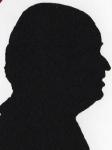 Review controls
This is described as waterproof, I assume that applies when a partial sleeve is applied. What is more interesting is the zoom is not with the normal lens extension but by using a sort of periscope action inside the unit.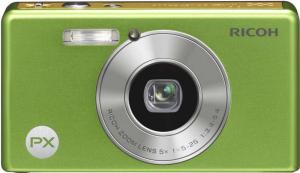 click image to enlarge
The Ricoh PX Digital Camera measures 10x5x2cm and that is when off or on as the lens zoom is achieved by internal movement thus no hole round the expanding lens to let in water. It weights 158grams. My camera and sleeve were both shades of green.
The base has a flip open door that is by design made to fit snugly it has the solid battery, SD card slot and both HDMI and AV outlets. At the far end is the tripod screw unusual that it is not centrally fitted. Just on the right side very near the base is the wrist strap anchor point. The left side is clear.
The top has a small speaker as well as microphone 'Water & Dust Proof' sign the power button, shutter release and a rocker for wide/telephoto. This leaves a rather sparsely populated back of the unit to tell you about.
A 5.5x4cm TFT display with nothing to its left accept a border, to its right a flash control three position switch (off, auto and on) with a video shoot button below it. No digital camera would be complete without the ubiquitous five position joystick and finally below this a button to display images and the self timer button.
Pressing the menu button reveals a quick shooting screen with three options, volume settings, picture quality and size and third advance shooting options.
The eight image sizes are 16MP 4:3, 14MP 3:2, 12MP 1:1, 12MP 16:9, 10MP 4:3, 5MP 4:3, 1MP 4:3 and VGA 4:3. These can be changed most easily from the picture quality choice mentioned above, but to swap between the two options of video shooting 640x480 or 1280x720 described as VGA or HDMI you have to enter the advance shooting options.
For a simple camera it has some surprising options such as a continuous shooting mode off by default and auto rotate in playback this is on by default.
The camera has optical zoom of 5x which zoomed in and out very smoothly and crisply. The 28-1400mm wide angle captured most things effectively; the solid battery should capture around 300 shots between charges.
I found the dedicated flash control 'different' but it could be useful in places where flash is not allowed as often you need to delve into menu settings to find the flash off setting and by the time you have the shot has been missed.
There is a great deal of information available from the last link including how to get to Premium Shot mode which on just flicking through the controls seems impossible. It is actually on the joystick with a upwards motion. I found 23 set modes and the ability to have five custom modes of your own.
There is a 128 page Camera User Guide certainly something to read and a blow to those manufacturers who give you a getting started guide in fourteen languages which tells you very little at all, this is a proper manual that teaches you things.
On occasions people say that I do not mention the image quality well you can be certain if it was poor I would do so. So I was more than happy with images taken with the PX and have printed and enlarged a good number all fine. I do have a slight problem with the flash being overpowering when images are within a couple of metres I found you had to avoid shooting straight on or the whole scene was very much overlit.
The Ricoh PX is available from the link below for £159 in green but black or champagne silver are around £10 cheaper.
http://www.amazon.co.uk/gp/product/B0055AWD46?ie=UTF8&tag=gadge0a-21&linkCode=as2