Canon PowerShot SX220 HS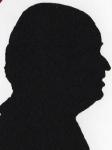 Review controls
Since PowerShots went to solid batteries their size can get nearer that of their other range of pocket cameras the Ixus. However they still form a bridge between the tiny Ixus and Canons high end range DSLR offerings.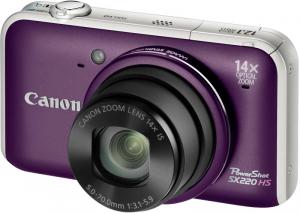 click image to enlarge
It is 10x5.5x3cm only slightly more beefy than most portable units however the weight is somewhat more at just over 200grams.
But when on full zoom the 3cm width increases to 8cm so the extra weight is needed to stop the unit becoming unbalanced. Also by default the flash raises automatically when you switch the unit on this adds 1cm to the 5.5cm height. So this is a mid size unit hiding in a pocket size skin with lots of features for the intermediate user.
Just after it arrived I had the chance to use it at a gig, someone I had got to know slightly recently asked during the interval to look as the shots I had taken, he was impressed and asked a couple of questions about what settings I had used. I explained on first use I always used the cameras 'Auto' mode to see what it could produce. Even in this situation it works extremely well in low light even without using flash.
This is a 12.1MP and 14x optical zoom offering. The left side is clear, the right side has a door behind which are mini HDMI and mini USB sockets, below this a tiny wrist strap anchor point. The base has a tripod screw that is important if you intend to use more than a small amount of the cameras zoom, it also has the battery compartment door behind which you insert any SD card you might use.
The face has the 5-70mm Canon zoom lens and the small flip up flash that is never closer than 5cm to the lens. The top shares the flash and the shutter button with the telephoto/wide angle adjustment around its outside.
This leaves the back that is dominated by the 7.2x4cm TFT display although only a proportion is used to display the image. There is a slight shoulder above this where the on/off button is and to its right the thirteen position wheel, below this a pair of well marked buttons, the ubiquitous five position joystick and another pair of well marked buttons.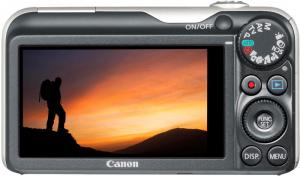 click image to enlarge
Four basic images sizes L, M1, M2 and S 4000x3000, 2816x2112, 1600x1200 and 640x480 all can be saved in both Fine and Normal compression. However once off Auto you can change many things including the image resolution size from the basic 4:3 to 16:9 or 3:2 and even 1:1 which gives a range of options to choose from.
For movies there are four modes 1920x1080, 1280x720, 640x480 and 320x240. Again lots of extra choices including super slow motion which can give some great results but use a tripod for decent results in this mode.
The gap between a camera and camcorder gets even less with this PowerShot unit capable of things that the majority of camcorders could not do a few years ago. Mind you a lot of camcorders can now take decent still images.
Image Stabilization is now a standard feature that certainly helps with camera shake, however I am still not sure about things like Smile detection as in my tests it is really only noticing facial movement and a snarl is not a smile, still it has it along with numerous scene modes sad to say you will need to resort to reading a PDF file to see exactly what all the goodies are. All the printed documentation today is a thin Getting Started Guide that will do just that giving decent results using 'Auto' but then twist the wheel - and you are really only going to progress by doing so – but then a printed manual would be so useful but unless you print out the PDF you need to experiment near your PC.
Doing my searches found the Canon PowerShot SX220HS at a best price of £184.99 with free delivery from the first link below.
http://www.amazon.co.uk/gp/product/B004M8S152?ie=UTF8&tag=gadge0a-21&linkCode=as2&camp=1634
I found the Canon PowerShot SX220HS available for $259.99 with free delivery from Amazon the first link below:
http://www.amazon.com/gp/product/B004J3V7MO ?ie=UTF8&tag=gadge0a5-20&linkCode=as2&camp=1789&creative=9325&creativeASIN=B004J3V7MO
I found the Canon PowerShot SX220HS available for €237,00 with free delivery from Amazon the first link below:
http://www.amazon.fr/gp/product/B004MKNBQO?ie=UTF8&tag=gadge04-21&linkCode=as2&camp=1642
http://www.canon.co.uk/For_Home/Product_Finder/Cameras/Digital_Camera/PowerShot/PowerShot_SX220_HS/