Nikon Coolpix S225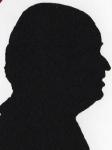 Review controls
A cry of 'I've got a little one' is hardly likely to bring a rush of the opposite sex. However a small digital camera is something that can attract attention especially from a quality manufacturer like Nikon, this unit is exclusive to Jessops.
Buy Now!
Nikon Coolpix S225
Exclusive to Jessops
£99 including delivery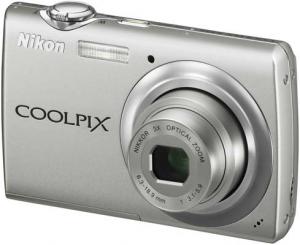 click image to enlarge
It 8.5x5.5x1.5cm silver in colour and it weights only 110grams it easily fits in the palm of an adult hand, but just because its small do not dismiss its capabilities.
The left side is clear and the right side has only the wrist strap anchor point. The base has tripod screw and the solid battery door that also houses the SD card slot. The top has the rectangular on/off button and the round shutter release with wide angle/telephoto control around the edge. All the buttons on the camera are highlighted in chrome.
The face has the lens with the flash mounted above and to the right a minimum of 2.5cm from the lens. This leaves the back which is dominated by the 5x3.8cm TFT display to the right of this are four labelled buttons as well as the ubiquitous five position joystick. These are all the controls and because of this certain buttons have more than one task that can be a little confusing until you know your camera.
This is a 10MP camera with 3x optical zoom as well as having a TFT screen that is easier to view in bright sunlight than a lot of other such small cameras.
Something called 'Electronic Vibration Reduction' and no less than four anti blur methods combine to give excellent images even when in bulk standard 'Auto' mode. Other features are 'smile mode' although as I have said before it is really a teeth mode and it could well be a snarl that it detects. Face detection can highlight up to 12 faces in any image to give perfect exposure. Quick retouch mode allows you to work and save the image as a copy. Not to be confused with Red Eye removal which comes under the scenes available a total of 16 various ones are available to allow the near novice to progress with the camera making adjustments to suit the various scene types. ISO settings up to 2000 with Auto working up to 1600. Something called D-Lighting to counter underexposed areas that fall in shadowed areas. Finally the macro mode works as close as 4inches (10cm).
While the total shots is 180 between charges of the lithium battery may be less than some larger cameras for a small unit that is still quite acceptable.
Like most recent digital cameras this unit can also accept SDHC cards and should you take movies with it then this could be important. You can still zoom in an out while taking a movie something not always available and the zoom is also very smooth and it does not seem to upset the capturing on sound.
There are a total of seven still images modes 10MP high quality, 10MP normal, 5MP normal, 3MP normal, what is called PC Screen (1024) VGA and a 16:9 10MP mode. In movie mode there are four compression modes two at 640x480 and two at 320x240.
A few figures a typical images taken at 10MP (high quality) would use around 4MB of space a 5MP image would use around 1MB and a one minute movie clip around 64MB.
I was perfectly happy with the images I took in daylight and flash up to around 3 metres and also the various short movies, a good small camera available for a good price.
As stated it takes a while to find where various items are not on the menu options screen as you may think but under the top left button with a green image of a camera on. This setting has Auto, the various Scene modes, Smile detection and Movie mode however it works.
As stated above this is exclusive to Jessops (either from their shops or mail order) the latter currently has a free delivery offer via City Link so the price is the same at £119.00
http://www.jessops.com/online.store/categories/Digital%20Compact%20Cameras/products/Nikon/S225-76042/Show.html