Canon Pixma MG5450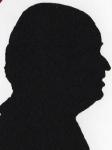 Review controls
A three in one printer, that means it prints, scans and copies. The black colour may mean it is hidden from 'they who must be obeyed' when in the lounge but it can be connected by Wi-Fi and in fact can do extra things when in Wi-Fi rather than USB mode.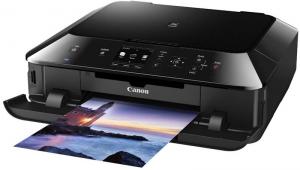 click image to enlarge
It is 43x36x16cm when closed; you will need a few centimetres more than the last figure to place items on the flatbed. It has two internal paper trays so while neither are huge this means paper can sit ready to be used within the size given.
The last few Canon units I have reviewed have no automatic output tray opening and I got messages to remind me, here you do not need to remember as when you say print it opens and even extends an extra arm so everything printed should stay in the output tray, this adds 16cm to the 36cm depth.
Back left is where you find the power lead and optional USB connection.
Drop the paper output tray at the front and it will reveal two card slots that allow printing direct from the cards or scanning direct to the card rather than the PC.
The front edge is sloped and this is where the controls are, to the left of a 6x4.7cm TFT are 'on/off' and 'home' buttons, to its right are six other well marked buttons and the ubiquitous five position joystick control that completes the ways to control the unit directly.
The flatbed is behind the sloping controls area so unlike other units where you just lift here you need to move to around 10cm back an area just behind the screen is a lip. Copies can be setup and the unit has a memory so a number of pages can be scanned ready to copy before the actual copy process. You can also reduce to as little as 25% or increase to 400%.
While scanning normally can only be done with the PC on here you can scan to an SD card. The TFT screen is not touch but is worked by three soft buttons just below it that offer choices related to the task being completed.
Best of all it can perform a preview which can often save wasted copies when you find it is not sitting square on the flatbed, the display on the TFT is not large but enough to determine placement.
Printing can also be direct from the MG5450 using the card slot. However the majority will probably use the excellent Canon software which includes their latest offering My Image Garden, this is the largest part of the installation, it of course does everything that the older software did – and more – but for a quick print it's a bit of a faff to load unless you have a fast machine.
The Help files are excellent and any task you are not sure about or maybe it's a job you do infrequently check out the icon installed on the Desktop.
The print times given nowadays are pretty accurate and most people printing at home do single copies and not twenty off, so saying 12PPM does not inform much when the mode used for timings is 'fast' and while Canons fast mode is quite black most will print in 'normal' or 'best' and these times are far slower so as the first and last page are never included in a test only the meat in the sandwich is timed giving a false impression.
As an example this document will take one page to print in normal mode and from sending to removing from the output tray takes 24 seconds. This time does not include the printers warm up cycle so if you are printing from off it's a lot longer.
The above is not meant as a criticism all manufacturers give the best possible readings for their units but now as they have to use the same document the timings are more accurate. So you will get 15 mono pages a minute once you are in a run. This is a nice five ink printer (two blacks) ideal for home or small office (SOHO) use.
The Canon Pixma MG5450 is available from the link below for £104.64 including delivery.
http://www.amazon.co.uk/gp/product/B009D07OWK?ie=UTF8&tag=gadge0a-21&linkCode=as2&camp=1634
http://www.canon.co.uk/For_Home/Product_Finder/Printers/Inkjet/PIXMA_MG5450/