CyberLink Director Suite 2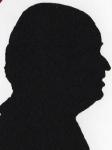 CyberLink are one of the main video and audio companies in the PC field. Director Suite is a very comprehensive package. You can buy online and download, or be a Dinosaur like me and install from DVDs and get printed manuals.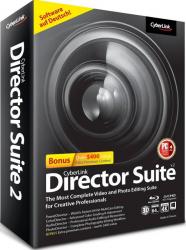 click image to enlarge
Director Suite is four distinct packages. Audio Director 4, Photo Director 5, Colour Director 2 and Power Director 12.
All are on the first of two DVDs and once installed take close to 5.46GB of hard disc space and on a reasonably fast Windows machine it took 15 minutes. All the installs follow one another and the only time I thought there was a problem when Power Director did nothing for around three minutes.
I mentioned above my love of printed manuals which are far easier than PDF files as you can't easily read a PDF file in the bathroom.
A total of 574 pages in four paper backed books, I find these ideal as with such wide subjects as video, audio, photos and colour no one person can be a master of them all but the supplied manuals mean all can be used without too much difficulty.
Extra material is on the second DVD which include effects and design packs and the flash on the box says these are worth $400.
Power Director 12 is the main package and this can work in 4:3 or 16:9 mode. If you are well versed you can use the full features or be wizard led and get almost the same results with the easy editor. There is also a slideshow creator (also wizard controlled) which gives rather good results.
There are new features but with 400 editing effects and over 100 editing tools things like the rippling effect could be a long time in finding.
Perhaps most interesting is the ability to work with four different cameras worth of content at one time ideal if you have four input sources. The Theme Designer - I counted 30 – and motion blur in your titles will give the same annoying effect that professionals look for to make you think your eyes are playing up.
You can now bring in sub titles and together with 64bit support and CyberLink producing their own Codecs means faster production but of course this is relative to faster machines, processors and more memory.
Photo Director launches from its own Desktop icon but its output can be incorporated in Power Director. The main screen has an area at the base for thumbnails, a task panel on the left leaving the majority of the screen free as a work area. It supports most formats and includes the ability to take stills from video.
Colour Director has been enhanced to include the eye catching Motion Tracking so the colour in one scene can be duplicated in others, great for the British ever changing weather.
The ability to use sliders to create an effect that allows certain features to be enhanced means things really do stand out.
5.1 and 7.1 sound support are the highlight to the sound which can be linked seamlessly to video even when captured from different sources. An amazing 99 audio tracks can be supported.
Director Suite V2 is available from the first link below for £192.66 with free delivery.
http://www.amazon.co.uk/gp/product/B00EVK68EM?ie=UTF8&tag=gadge0a-21&linkCode=as2&camp=1634
http://www.cyberlink.com/products/director-suite/features_en_GB.html