Panda v Vipre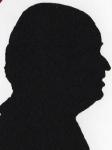 Prize won for the first to mention 2012 not in terms of the Olympic Games, however when people launce 2012 versions half way through 2011. Second a different approach from Viper offering whole (PC) life cover for a single fee.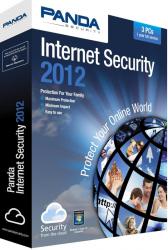 click image to enlarge
Panda Internet Security
Not quite sure what people think they gain by giving a year date like 2012 half way through 2011. Mind you some magazines do it with the month, as I write this at the start of August October issues are already in the shops.
While most of us still think of these packages as Anti Virus most now do far more including Firewall, Identity Theft and even Parental control.
Installation from the CD took only two minutes on a reasonably fast PC. It offers to look for later versions on the Web but if you are installing for the first time surely you would not want to scour the Internet without protection.
Although I had a licence key I decided to try it using the '30 day trial' first, it seems you get the same coverage but you will continue to get pop up nags from the right corner of your screen. Once installed it then warns you that your definitions are out of date and now it is safe to let it loose to update itself, depending on how long the product has been on the dealers shelf will determine how long this takes but it could be several minutes.
The home screen is split into three columns the first lists what is covered, Anti Virus, Firewall, Identity Protection, Vulnerabilities, Anti Spam and Parental Controls. The second column is Maintenance, Automatic Backup and Online Backup. The last column is Updates showing when the last update was done and also when your licence expires.
There are other bits of information such as the number of viruses it has found (none when I let it do the first scan of a new PC) the next day it had found seven items all called Spyware once it had the ability to go onto the Internet.
This looks an interesting product but always bear in mind it's only a 12 month licence in this case for 3 PCs.
Panda Internet Security is available from the link below for £40.99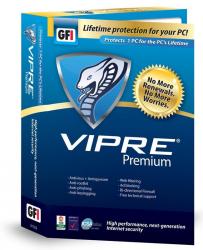 click image to enlarge
https://shop.pandasecurity.com/cgi-bin/shop/reg=GB/ml=EN?ID=B12IS12ESD1&interstitial=NO&track=109053
Vipre Antivirus Premium
This is sold – often with new PC's as a lifetime licence meaning that if on day one it is installed you should never have a Virus on your PC even if you keep it for five or even seven or more years so no extra to pay out ever.
If you need to install it then I found it took around three minutes on a reasonably fast PC and took close to 500MB of hard disc space. The only questions asked were what email package you used, you then are asked if you want pop ups while it is learning or not (the simple method is not) and then you need to reboot your computer.
The Vipre window has five tabs, Overview, Scan, Firewall, Manage and Tools. It also has an icon in the tray that informs you of actions.
It comes with a four page Quick Start Guide that should help the novice user, but once installed it can be left to do its job.
Two items should be on all PCs Anti Virus and a Firewall this has those features and for most people having it secure their PC from attack without slowing down what they are doing is all they want, there own reliable security.
Vipre Antivirus Premium is available from the link below for £19.95 for single PC or £29.95 for three PCs.