StarOffice 9 – a low-cost alternative to MS Office

StarOffice 9 is an office suite that is file compatible with Microsoft Office and will meet the needs of the majority of people – especially as it has the same look and feel with which we are familiar with in MS Office 2003. This could be an important benefit as many people find it difficult, in view of the major changes that have been introduced, to migrate to MS Office 2007.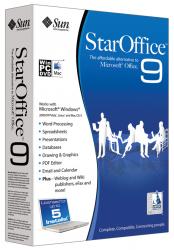 Using it, one is able to carry out the usual range of tasks in: word processing, spreadsheets, presentations, databases and drawing & graphics. Completed documents can be saved in a wide range of formats including PDFs. StarOffice 9 is based on the OpenOffice.org project and so is, in effect, a chargeable version of the free downloadable office suite. In fact, when comparing the two, with the exception of cosmetic differences, it is not easy to find the differences. However, at a price of £29.35 for a 5-install licence, it will hardly break the bank.
One of the major benefits for a number of users is that, as it is supplied on disc, one just has to install it like any other application. This may be important for those who are not familiar with downloading software and then installing it especially when it comes to installing on a number of machines.
What are the benefits? For some, the entitlement to three StarOffice "Support incidents" during the first 60 days from the date of purchase may be important. However, not having experienced any problems with either installation or use of the program, it could be be the additional features provided on the disc, over and above OpenOffice, that is the decider. These include Sun PDF importer and eFax software. The latter, obviously, requiring a fax modem.
StarOffice Help warns that some layout features and formatting attributes in more complex Microsoft Office documents are handled differently in StarOffice or are unsupported so that it may be necessary to carry out "some degree" of manual reformatting imported Microsoft Office 97/2000/XP documents. This is unlikely to be a problem for the documents.
As well as being a cost-effective office suite for Windows users, it will also run on Linux and Mac machines. Consequently, it could well be the ideal suite in a mixed environment or where a user is contemplating migrating from one operating system to another. Furthermore, with Christmas on the horizon, if giving a new computer as a present, why not include StarOffice 9 in the package.
As well as being available from avanquest.com at £29.35, Amazon offers it for £20.97.