CyberLink YouCam 3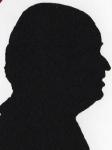 There are a lot of web cams around and somewhat surprisingly few applications to let you make the most of them. Of course to take an image or a video you need little, however should you want to pep up the content then you need something extra such as CyberLink YouCam 3.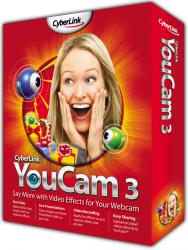 Increasingly applications come as downloads as this one did. The problem I find with that is that there is of course no box and no CD so burn one yourself (this download was just over 100MB) and do remember to include not only the downloaded files but also a text file with the all important serial number so if the worst happens and you need to reinstall the product at any time, you can.
Installation was straightforward (I was using a 1GB system with Windows XP) it seems to find any webcam you have either built in to the screen as with a notebook or external as with most PC's. It seems happy to work with either.
The interface on my 22inch panel was a fixed size 24x18cm with a window within it on the left half 12.5x10.5cm showing whatever the webcam is looking at. The right half has a number of items such as hats and other items under the broad heading of effects. These are broken into a number of groups. While the main likelihood is that whatever image showing is likely to be captured and then printed. The item (such as a hat) remains in place in proportion on say the head all the time the live image is being shown on the screen so this is certainly not just adding 'a clip art image' as some similar sort of packages do.
The effects groups are, Gadgets, Avatars, Scenes, Frames, Distortions and Filters, these however are just the start of what can be done to any image. It is possible to add more than a single effect to any image but I found in my limited tests a single effect seemed to have a more powerful impact than several as it is more believable.
Between the webcam image and the effects area are a column of eight icons, Settings, View at full screen, Video Surveillance, Add effects, Draw on the image, Enhance the image, Zoom into the image and finally Clear the effect.
In most cases you get an image by clicking the Snapshot icon under the image screen, you get a 3-2-1 countdown if you need to pose the image. This image then appears as a thumbnail in an area below the main display screen. This area can be set to display only photos only videos or both. To the right of this thumbnail area is what you can do with these images, Upload to YouTube, Upload to Facebook, Email or even should you wish Delete.
One quite weird effect I liked was placing a teddy bears head on what otherwise is definitely another body in the image window. The original head and body move in time with whatever is in the eye view of the webcam a very nice albeit a bit scary effect, but in the right place it could look great, all achieved with just a couple of mouse clicks.
Another worthy of mention is one of the morphing effect,s take a side on image and one such effect applies a swirl to the ear leaving the rest of the profile unaffected as I said earlier less is often more as it remains for more believable.
Doing My Internet searches found CyberLink YouCam 3 at a best price of £24.99 from the link below.
http://www.cyberlink.com/products/youcam/overview_en_GB.html?affid=2581_620_479_4_0_ENU_youcam
Should you own either version 1 or 2 then you can upgrade for £14.99 in this case click on upgrade.