Big Top Management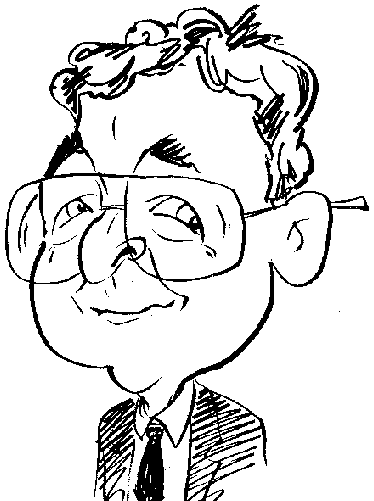 Review controls
Mix together a combination of canvas, sawdust, clowns and speciality acts under the control of a ringmaster means the subject must be a circus.
Buy Now
Circus Empire
From Avanquest
£9.99 direct from Avanquest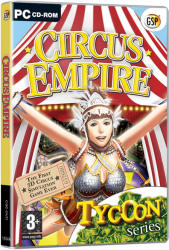 The concept of a circus has changed radically since my early youth. Animal acts are considered both inappropriate and cruel while other forms of entertainment have proved more irresistible by modern day audiences. If it is not digital or personal then you start off with a disadvantage especially when the viewing environment lacks the desired level of comfort demanded by today's paying customers. Yet circuses still have an attraction even if it is only in the form of a computer based simulation game such as Circus Empire.
Available from Avanquest Software Publishing, Circus Empire comes with the claim of being "The first 3D circus simulation game ever" and I am not going to argue with this description. Supplied on two CDs, this is one of those games that believes that documentation, in any form, is a total waste of resources. As a result, apart from any information you are able to glean from the cover of the DVD-style packaging, you are liberally thrown in at the deep end. Admittedly there is a tutorial as you are led through the basics of the game by a talking dog (after all this is a circus with performing animals).
The opening menu of Circus Empire gives you a choice of playing a freestyle game or campaign. This latter option starts you off with the tutorial that leads you through the mechanics of the game. While visually appealing with useful information, it was rather easy to click on the wrong icon by mistake and be side-tracked with another section of the tutorial so missing out on the original task that could prove important later on. Although a creditable attempt to help the user, I felt it hardly made up for the lack of printed documentation.
Basically the game put you in the position of acting as the overall circus manager. You will need to build up the circus focused environment with building, pathways to encourage visitors and other items you might expect to see at a circus. You will need to build up a list of performers from the 70+ available including clowns, trapeze artists, daredevils, acrobats and a selection of animal acts. Your performers will need to be skilled in various activities as they learn and practice tricks before performing them in front of an audience.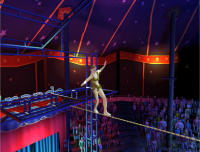 click to enlarge
The game's graphics and animations of the various performers and acts are impressive but they do tend to wear thin when viewed several times. It was also noticeable that props would appear and disappear as if by magic. Further inconsistencies occurred as you move around the circus area. Basically you control your character using the cursor keys for navigation and the mouse acting as the camera control. However if you fail to line up the camera correctly, your character will look as if he is walking in a crab-like sideways motion. Other passing characters fail to acknowledge your presence and walk right through you.
As well as creating and viewing your own circus performances, there is an option to watch three ready made circus performances from Europe, Florida and Orient. These shows are definitely not interactive as all you can do is sit back and watch with, in my case, boredom quickly setting in. The Florida circus appeared totally water-based with dolphin and sea lion acts while Europe and Orient did give you some variety with a mixture of human and animal performers.
The 3D and bright colourful graphic aspects of this game failed to gloss over the limited appeal of the game play. This is not a game that is going to keep drawing you back for more although it could provide an hour or so of light entertainment. Circus Empire is priced at £9.99. It requires a minimum of a Pentium 700MHz processor with 128MB of RAM, 1.5GB of available hard disk space and a 3D graphics card running under Windows 98 or later.
http://www.avanquest.com/UK/play/simulation/business/Circus_Empire.html