A Total Solution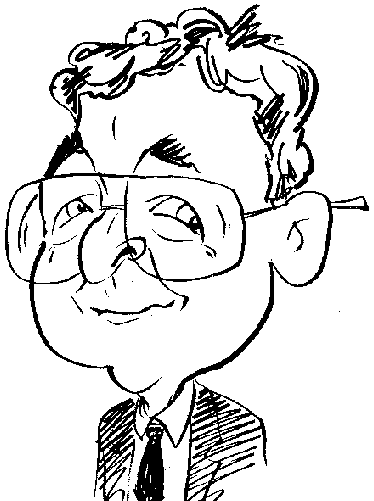 Review controls
Completing our look at BitDefender's three-pronged protection approach brings us to a total security solution.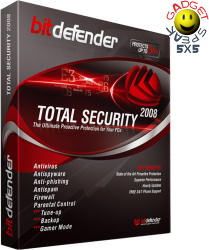 Rather than take the pick-and-mix route when deciding on how best to protect your computer from outside influences, you could opt for an all-in-one approach as adopted by BitDefender Total Security 2008. Arriving with the promise of providing comprehensive proactive protection, this product is aimed at digital families and those looking for a total solution for their peace of mind needs. As with the other two titles in the current range (BitDefender Antivirus 2008 and BitDefender Internet Security 2008), BitDefender Total Security 2008 comes with a 3-user licence enabling the product to be installed legally on three computers.
Installation is straightforward and includes advice to shut off any other antivirus software before proceeding plus options to shut down Windows Firewall and eject the CD at the completion of the process. BitDefender's Security Centre, launched from the Start Menu or by double clicking on the BitDefender system tray icon, presents four large panes showing the current status of the host computer with regards to Tuneup, Security, Parental Control and Backup. With a computer in good health, these four areas will each display a green tick.
However you could be faced with icons declaring that some areas have not been configured or, more worryingly, critical warnings regarding issues affecting your system. When this occurs you can tackle issues individually or select the Fix All Issues option. It should be pointed out that some of the issues raised by BitDefender could hardly be considered as "critical". In some cases the issue could be little more than referring to defragmentating your hard disk. You may have regularly carried out this task with a product such as the excellent Diskeeper, but this counts for nothing with BitDefender. Until you run the BitDefender defrag module it will designate this area as needing attention. On a system that is regularly defragmented, BitDefender advised me that my hard disk was last defragged on the 1st January 1970 rather than over 38 years later as was actually the case. This was not an isolated incident as the same date was shown with the Registry cleaning module.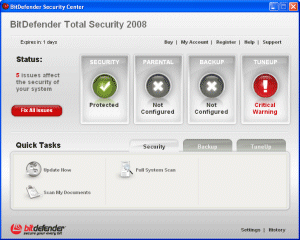 A series of Quick Task icons are available for carrying out common tasks and these have been categorised under headings for Security, Backup and Tuneup. Various types of scan can be used and these cover your documents; a deep system scan; or a full system scan. Using a wizard-led approach, you can step through the process of selecting content; choose the destination which could be a local or LAN drive, USB device or optical media; and set a schedule. A corresponding Restore wizard is provided.
As mentioned earlier, both Defrag and Registry cleaning features are included as part of the Tuneup section of this product. Other tasks available as part of Tuneup include finding duplicate files; shredding unwanted files; and cleaning out temporary Internet files and cookies. While competent in carrying out their designated tasks, these additional utility features are not the real major selling point of BitDefender Total Security 2008.
BitDefender's real expertise lies with its antivirus protection which uses the company's B-Have technology to isolate and check code within a secured, virtual environment. You also get good network protection, privacy settings, parental control and the Game mode which cuts back on some protection settings that might interfere with gaming activity. BitDefender Total Security 2008 lives up to its title by providing all-round protection for the computer user and is priced at £35.95 (for a 3-user licence). Updates are available on an hourly basis while support is provided 24/7 via phone, email or chat.
http://www.bitdefender.co.uk/PRODUCT-2193-uk--BitDefender-Total-Security-2008.html