datAshur Pro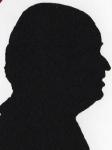 Perhaps one of the most unsecure methods of transporting data around – apart from a paper copy - is a memory stick so file encryption can help here however another method that allows internal file encryption and also encryption on the device before you can even see the files.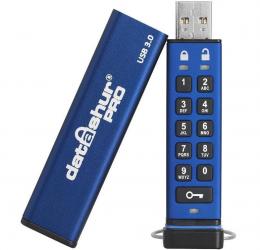 click image to enlarge
This unit is made of aluminium and with its sleeve quite watertight but the secret is once you have removed the sleeve. A USB3 plug on one end a keyring connector on the other and in between a numeric keypad and until you enter the correct key your device cannot be recognised by a USB port.
If you enter the wrong key ten times in a row then all the information on the stick is wiped.
The stick itself is the same dimensions as a normal USB stick but it is slightly longer.
The dimensions are 8x1.8x.9cm and it weighs only xxgrams in the sleeve.
Out of the box the battery in the box is not fully charged and it is recommended that you charge it in a USB port for an hour to do so.
Unlike other drives that you insert and then it asks you for the password – if set – this unit requires you to enter your password of between 7 and 15 digits before inserting it. You cannot have a string of all one number, if you could it would mean if it fell into the wrong hands within their ten attempts they could get access.
They suggest you think of a memorable word and then treat it like a phone pad where A, B and C is represented by 2 and for example P, Q, R and S are represented by 7, so once you get to a reasonably long word the possible combinations are huge.
Full instructions as well as the pre-set default password are given on the small six side card to enable you to make initial access you are strongly advised to follow the instructions to set either one or two passwords of your own immediately.
Once you have entered your password and pressed the key button you have thirty seconds to insert it in a USB port, as soon as you remove it from that port it is instantly locked again even removing it from one port and inserting it in the next door port will not work, I know I tried.
I remember seeing an earlier device that also had a keypad but that was far bulkier and not suitable to sit in your pocket along with your keys.
Setting two passwords one an Admin one means that in a business even if the owner (main user) is away or off sick then the Admin password user can still access the data.
It requires no other software and comes in various sizes up to 64GB. It has built in encryption software that by default is AES 256-bit but if you wish you can set other standards, however when you correctly enter the numeric code all files are immediately available to view.
This is a vast improvement on earlier bulkier versions and if you have to carry documents and files securely it works well.
The datAshur Pro is available from Amazon priced, at the time of publication, at £73.99 for 8GB up to £133.19 for the 64GB version.