YubiKey 5 & 5C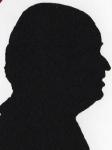 Some files and documents are important or perhaps even more valuable than that, if you run a business they could mean getting a contract – or not – if the information they contain fell into the hands of your competitors, so knowing who sees what is vital. This tool from Yubico means only those in possession of the USB key do see the encrypted data, no need for special passwords just the USB key.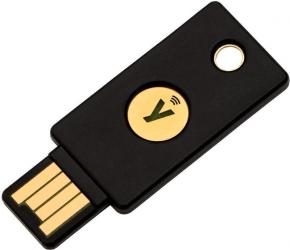 click image to enlarge
For those who want more these keys can be used as a second level of protection as well as standard passwords and even as a third level with 'Two Factor' and 'Multi Factor'.
The keys can work with standard USB, USB 'C' and even NFC (near field) most prevalent with SmartPhones.
FIDO 2 support is now standard with the YubiKey 5 & 5C.
YubiKey stands for your ubiquitous key as its usable almost anywhere, either standalone or with more normal options like passwords as a second level.
If using the YubiKey on your Android SmartPhone then as you place the YubiKey on the NFC point you must touch with a finger to prove you are not a remote hacker which unless you lay the key on the phone you will automatically be doing. For those using YubiKey in a USB (or USB 'C') port you have to touch it in the same way as mentioned above to prove you are there and remotely trying to access.
The YubiKey is both water resistant and crush proof.
The USB key is 4.5x1.7x.4cm, it has a hole near the top to allow connection to a keyring, the last 1.2cm goes into the USB port. The USB 'C' is somewhat smaller at 3x1.2x.6cm with the last .5cm of it going into the socket.
First register your YubiKey and from then on whatever you protect should be safe with only the YubiKey protecting it, you can continue to use – should you wish, or company policy demands – standard passwords and or pin numbers to give two level protection.
Perhaps one of the appealing advantages is a single key for so many accounts and logins even as a single user in a password mad world you probably have at least twenty different as a home user and a awful lot more as a small business user. The easy ones to remember are the ones you use daily of weekly, the more difficult are the ones that only demand your password on an occasional use scenario or –even worse- that you use only rarely.
Some claims from the Yubico site, Zero account takeovers, four time faster logons, 92% less support calls and 100% acceptant rates.
I was sent both the YubiKey 5 and the YubiKey 5 'C' but their site sells these separately at $45 and $50.
Other devices are also available and should you need them, so are volume deals.