Y-Cam Security Camera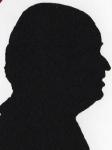 Y-Cam has been producing home security cameras for a while. There latest offering is what I am scrutinising here. It is the EVO, possibly the easiest camera I have even setup. This unit is intended to be used indoors only and it is powered by USB.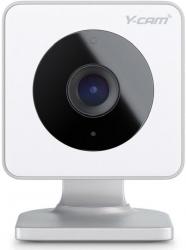 click image to enlarge
It comes with a small stand so is easy to move around, however it can be fixed to a wall or ceiling with the provided screws. The base of the stand is magnetic so anything metal it is placed upon provides a firm base.
Every movement within range is tracked and all video clips start around four seconds before the movement occurs and within a timeframe continue till after the movement stops.
It is 5x5x2cm, attach the stand and this increases the height to 7cm and the depth to 4cm, the base of the stand is 5.5x4cm and as stated is magnetic so will stay where its put on anything metal.
The stand allows free rotation and then it can be locked in any position. There are two screws and plugs provided for wall or ceiling connection.
A long USB lead is provided and if necessary this can be extended even more with a standard USB extension lead. The leads small end fits in the back of the camera, it is easiest to feed the lead through the back of the stand and into the back of the camera before attaching either to a PC, Router or a Wall socket for power. A UK plug front is provided.
A small multi language manual is supplied with the first six pages in English. There is a full PDF manual available on the Y-Cam website.
I print it because I found it initially and downloaded it and then never could find it again, so I resorted to a chat with a Y-Cam help desk person who sent it to me. Apart from my journalistic reason to view the manual I could find no explanation of a red LED beside the green one on the camera.
The manual lists all the other colours green, blue and red flashing or solid with the exception of a solid red. An email to technical support received a swift reply saying it was the infra-red light and indeed turning a nearby light on made it disappear. Any other queries I had were answered by the 36 page PDF file.
Once you have created an account on your Smart Phone you can view live images or videos and providing you have rotation turned on these can be full screen.
You can also log in to your account on the Y-Cam website from a PC and log in to view images from there as well the videos are HD 1280x720 and even in infra red night vision images were clear and easy to make out. It is possible to get still images as well as movies and while these are stored for free in the cloud for seven days you can then download any you need to keep.
The EVO is somewhat cheaper than a lot of the competitors as you can see from looking at the Y-Cam web site.
The y-cam EVO is available from Amazon in a twin pack for £129.99 with free delivery.