Wileyfox's discounted Add-X phones

Wileyfox is now offering an appreciable discount on the price of smartphones in return for users accepting lockscreen advertising with its Add-X service. This is the latest move in a cut-throat marketplace where vendors are looking for innovative ways of attracting price-sensitive buyers and generating revenue.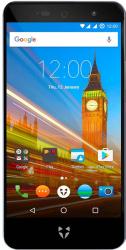 click image to enlarge
Following a tie-up with Korean firm Buzzvil, whose lockscreen advertising service is already active in South Korea, the US, Japan and Taiwan, Wileyfox has launched its range of Add-X variants as an extension to its existing range of Swift 2 and Spark smartphones. They are being offered with up-front discounts of up to 42% off the list price. However, users who buy a discounted Add-X phone will have the opportunity of reverting to a standard Wileyfox phone by paying back the discount.
With Add-X, promotional material is initially displayed on the phone's lockscreen with the user just swiping right to unlock the phone in the normal manner. If, however, the material attracts interest, a left swipe enables the user to access more promotional matter. Advertisers on the Add-X platform currently include Domino's, intu and Ministry of Sound although material from a number of others organisations including the Telegraph Express Newspapers is currently being displayed.
Employing proprietary AI and machine learning technology, the Add-X platform adapts to user's behaviour and learns their interests. As this will enable Wileyfox to offer advertisers the opportunity to focus their material so that they have a far higher chance of reaching their target audience rather than just using a "blunderbuss" approach it has the potential to be a disruptive technology that will be very attractive to advertisers.
According to Michael Coombes, Wileyfox CEO "At Wileyfox we're committed to shaking up the competition again, to give our customers the best smartphone for their budget. And with Add-X we're smashing expectations at an even higher level reducing the costs across our range upfront, while also giving the consumer even more ways to be "wiley".
The percentage discounts cited by Wileyfox for the Add-X variants are based on the list prices for the phones which may not be the actual prices offered by Amazon UK, Carphone Warehouse, eBay or ao.com.
| Model | List Price | Add-X price | discount |
| --- | --- | --- | --- |
| Spark | £119.99 | £69.99 | 42% |
| Spark X | £139.99 | £79.99 | 43% |
| Swift 2 | £159.99 | £99.99 | 38% |
| Swift 2 Plus | £189.00 | £119.99 | 37% |