Triple Dose of Game Play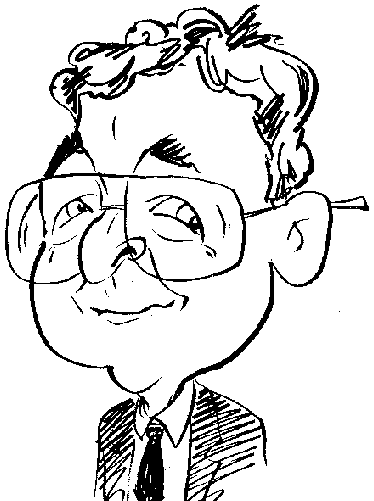 Review controls
Can you handle murder, mystery and madness when tackling this collection of titles?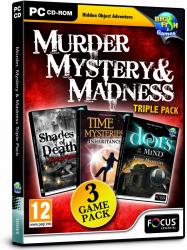 click image to enlarge
Take a smidgen of murder, add a flavour of mystery before sprinkling in some madness and the result could be a triple pack of Hidden Object Adventure game play. Entitled Murder, Mystery & Madness, the three main ingredients of this package are Shades of Death - Royal Blood, developed by VOGAT Interactive, Time Mysteries - Inheritance, developed by Artifex Mundi, and Doors of the Mind - Inner Mysteries, developed by QB9.
Supplied with a front-end menu, these three titles can be installed individually or as a group in whatever order you wish. A similar set of options for setting up these titles is available. Profiles can be created to record the progress of different players. Volume levels can be adjusted for music and sound effects plus there is an option to implement full screen viewing.
Shades of Death - Royal Blood
With this game you are cast in the role of a young woman who receives a phone call from her sister, Violet, to inform her that their father had died. As well as being upset by the bereavement, Violet was frightened by other recent occurrences. You decide to return to the family home of Morton Castle to see what you could do to help in this Hidden Object Adventure game which gives you a choice of Casual or Advanced mode. The former has a faster charge rate for the Hint feature and sparkles to identify active areas. A slower rate and no sparkles form part of Advanced mode.
To assist you in your quest, an array of available tools run across the bottom of scenes. Arranged from left to right are a journal, recording your finding, task icon, inventory and a Hint feature represented by a goblet of blood. It quickly becomes apparent that phantoms have a part to play especially after finding your sister's dead body. You discover that an amulet, which has been keeping evil at bay for over 200 years, is somehow involved and needs to be found.
As you travel around the castle, you will be accosted by phantoms who communicate with warnings in text format, find newspapers that can prove useful plus tackle a series of problems including Hidden Object scenes and mini game puzzles. Hidden Object game play uses the standard format of a well-populated scene and a text list of items to find. You will be rewarded with one of the items found at the conclusion of a scene. Mini game puzzles vary in type and are generally used to block access to important areas.
Time Mysteries - Inheritance
As with the first title in this triple pack, this game gives you the choice of playing modes. You can select from Regular or Expert mode with the former providing sparkles to identify active areas and a fast charge rate for the Hint feature. Expert mode has a slower charging rate and no helpful sparkles.
Again you will be cast as a young woman. This time you take on the persona of Vivien Ambrose who has just received an award. This is for her work in physics involving travelling through time. The game starts as you return to the family home to tell your father about the award.
Various tools are arranged across the game's different scenes to assist you in the forthcoming adventure. Running from left to right are a Hint feature, diary recording your findings, inventory and menu options. Initially you will be granted four hints. Once these have been used up, you can opt to play a Match 3 mini game for a short period of time and earn some extra hints. The best I could manage in these sessions was four hints. The game mouse cursor can provide additional help by changing shape when it is over active areas.
Unfortunately when you arrive at the house, your father is nowhere to be found but there is a light in the attic, a part of the house your father had placed out-of-bounds. It quickly becomes apparent that your character's expertise in the field of time travel is not unique as your father has been kidnapped by a time traveller looking for certain objects. The discovery of a crystal ball and seven rings send you on a series of journeys to different locations existing in different time periods which form the basis of this game.
Each journey will generally involve a Hidden Object scene and some type of puzzle. The Hidden Object format is that of the familiar type with a well-populated scene and a text list of items you will need to find. The reward for completing a scene will transport you to the next location. At different times you will need to tackle a mini game puzzle. These puzzles include Spotting the Difference, creating a path for a ball to travel through and visit all the squares on a chess board using a single chess piece.
Whatever the mode of game play, the game's scenes are well-drawn without being spectacular. The game features full-size characters that tend to be rather static and only use text when they have anything to say which I felt was disappointing.
Doors of the Mind - Inner Mysteries
This third title casts you in the role of Hazel who has been suffering from nightmares relating to her childhood experiences. Aiding by a course of sessions with a dream specialist mixed in with visits to her childhood home, Hazel tries to unravel the reasons for her dreams and solve the mystery of her mother's death.
Put under a trance, Hazel has to dig deep into her memories and visit scenes from her past in order to solve problems, When these problems involve Hidden Object action, Hazel will be asked to find items represented by images or in listed text format. When images are used, these are not exact replicates which increases the difficulty a little. When the list is in text format, you will be able to click on the entry and be shown a silhouette of the item.
As well as the Hidden Object aspect, some scenes also contain other items that you need to collect as they will be required later in the game. There will also be occasions when you will be required to position items in their correct position in a scene.
In order to established the truth of memories from the past, comparisons will need to be made. This interludes require you to compare Hazel's memory with the real scene. However the real scene is always depicted in mirror mode. I found this much harder than when dealing with normal Spot the Difference scenes. Other puzzles that could try to block your progress include Mastermind, balancing scales, fix lights and arrange marbles according to their colour as Hazel attempt to solve the mystery of her Mother's death.
While delivering an enjoyable playing and sometimes challenging experience, Door of the Mind - Inner Mysteries felt more like an appetiser rather than a full course. It has less content than the other two titles with Shades of Death just scraping in as the winner. I have seen this triple pack available on Amazon priced at £1.81. System requirements call for a 1.4 GHz processor with 512MB of RAM and 700MB of hard disk space running Windows XP and later.
Murder, Mystery and Madness Triple Pack (PC CD), Very Good Windows 7, Windows 7 | Amazon