VN5 Harrier Drone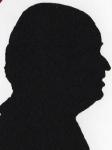 I asked to look at this - solely on price - as most camera carrying Drones are not cheap – I am thinking three figures – but this offering is less than £20. In fact only just over a year ago similar items were well into the middle hundreds.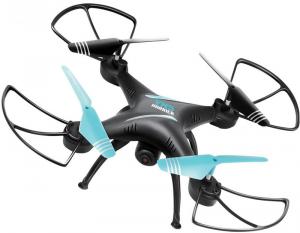 click image to enlarge
I looked at one very small drone last year that was suitable for children, yes suitable for children as it had blades that were fully protected and was very easy to hover.
This unit is larger and will either need parental supervision or children of an older age as it needs to have more ability to fly it – yes even I could fly it – and the blades although plastic could do damage.
It is circular and a maximum of 32cm across and up to 5cm tall with its camera attached. The instructions state it will work up to 40 metres away, it weighs 81 grams.
The controller requires 3x'AAA' batteries (not supplied), it is 12x8x4cm and weighs 102 grams. It has two joystick thumb controls as well as eight subsidiary buttons which do most things including taking photographs from the camera mounted under the drone. There is no screen so you have to take the very early digital camera stance of guess what you will see according to its position and shoot.
Images are stored on a micro SD card (not supplied) and you then view them on your PC or SmartPhone once the drone has landed.
The drone itself has a small battery which is charged by a supplied lead from any USB port, the stated fly time is six minutes and the recharge time two hours. This of course could be a problem if you are a child having one go just about to get something good and then having to wait two hours to have another go.
There is an eight side A5 instruction booklet with plenty of illustrations and all the controls are explained. The Drone is stated to be for '14+'
A couple of spare batteries would have been good, however removing the battery is not simple as the camera has to be removed first even removing the connection from the battery to allow charging is a little fiddly.
However a drone of this size at this price is a rather good buy and also having a camera even better.
So flying it over your own home to inspect the roof is a lot easier – and cheaper – than erecting scaffolding.
It is stated to work indoors or outside, I think I only tried it initially in my kitchen to see the controls; you will need a day with no wind as it is so light that any real wind will make it uncontrollable.
At the price it is a bargain the camera is fixed lens and will need some distance to get decent still or movie images and that – as an old man – is what worries me is the stated 40 metres control area accurate or will it fail to respond sooner.
The VN5 Harrier is available from Amazon for £22.99, which includes free delivery.