Toshiba X300 series internal HDDs

A Toshiba X300 series internal HDD makes an effective PC upgrade to satisfy the capacity and performance demands of gamers, graphic designers as well as those video and movie buffs who are rapidly filling up the storage space on their existing hard drives.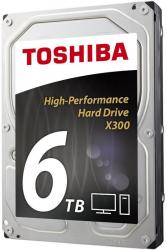 click image to enlarge
X300 "Black Label" drives are 3.5inch SATA internal drives which have been designed for reliability in operation. They run at 7,200 rpm and have a 128MB cache – both of which are factors in providing the high real-time performance needed to meet the requirements of demanding users.
Currently available in 4, 5 and 6TB capacities with an 8TB version expected shortly, they are aimed at meeting the needs of demanding users such as gamers and professional users and especially those working with graphics and videos who all require reliability and performance.
The drives which have a 6Git/s SATA interface incorporate a dual-stage actuator design aimed at improving positional accuracy and to decrease head-track alignment effects caused by vibration as well as there being an internal shock sensor aimed at ensuring that no data is lost. In addition, when not in use the heads are parked to avoid contact with the disc.
Toshiba states that Perpendicular Magnetic Recording and Tunnel Magneto-Resistive technologies are employed for stable recording that makes the most of hard drive space while optimisation of cache allocation during reading and writing improves performance in real-time operation.
Installing an additional hard drive is more straightforward than replacing the existing one with one of greater capacity. This is because the cloning operation to transfer the operating system etc. to the new drive prior to it being actually installed in the machine is not needed.
Furthermore, the move towards "tool-less" construction of modern PC cases simplifies the physical installation of the drive, which is often just slipped into plastic guide rails and then inserted into one of the slots in the drive cage. Electrically, there are only two cables to be connected: power and data. And, as there is generally a spare power connector available, the only extra item needed will be a SATA data cable. Equally important is the fact that, as the drive only has a read/write power consumption of 11.3W it only imposes a small additional load on the PC's existing power supply.
Similarly, the basic setting up that is needed to make the drive available once the physical installation has been carried out is relatively straightforward. Right click on My Computer (This PC) and then under the heading Computer Management (Local) go to Storage/Disk Management. Then, having identified the new drive, format it into one large NTSF primary partition or, alternatively, into two or more smaller partitions.
As can be seen the upgrade is a relatively straightforward and so should not incur a high labour charge at one's local PC shop. Alternatively, it could well be carried out by a user who has had some previous experience.
With prices ranging on Amazon from about £107 for a X.300 series 4TB, drive to £172 for a 6TB version this upgrade is an effective way of speedily bringing an otherwise adequate PC into the video arena while at the same time avoiding the trauma of getting a new machine and its software working to one's own satisfaction.