StarTech MST30C2HDPPD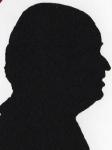 StarTech is a company that has those had to find things that others do not have. Here something that could be a larger seller with more small notebooks being marketed with only USB 'C', so how do connect a standard USB device as well as other components.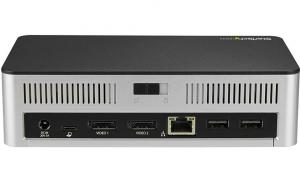 click image to enlarge
'Ultra-Portable' is often the phrase the notebook is compact, and, as long as everything you need is already there that is fine.
This 17x9x4.5cm box and all the likely to required leads are supplied by StarTech with the less than catchy name of MST30C2HDPPD Okay that's the part number but the name is USB-C Docking Station for Laptops – Hard Drive Bay – MST and Power Delivery – 4K.
So what has this box got, the back has a line of connections, DC input, USB C, two Display Port connections, Ethernet and two USB ports. Both sides are clear as is the base apart from its four substantial rubber feet. The flat top when unlocked has a dock for a hard drive under the lid. This leaves the front that has a USB port and a 3.5mm socket for charging at the left side, further along are two pin hole LED's for hard drive activity and the other when power is going in to the device and finally the on/off button.
Also in the package are a 20vAC adapter (60 watts of power) and mains leads for the four different regions of the world, finally the all-important USB C to USB C lead.
Everything is supplied in a two part well-constructed fitted solid cardboard box which comes with screws (for optional hard disc) and a small but readable 15x10.5cm sixteen side manual which explains everything. If you need to move around then when the dock is replaced in the box with or without a hard disc in it everything should arrive still working. The manual is for seven languages but only English is printed, it has download links for those needing a different language version.
The Dock is stated to work with Windows 7, Windows 8 (or 8.1) and Windows 10 although I only tested it with Windows 10. The manual also says MAC 10.11 and 10.12 but MAC does not support MST.
Drivers for the Dock should automatically be installed but StarTech provide a link to download them for the occasions when Windows does not.
While my main thoughts were to just get standard USB drives for use on an 'Ultra-Portable' notebook the people at StarTech have taken this far further with support for 4K resolution with the inclusion of Display Port. Ethernet can be useful in an office environment where Wi-Fi is banned and for those who only have a small SSD drive then having a standard 2.5inch drive with direct connection.
All this happens – once installed – as soon as you plug the USB C to USB C cable from your 'Ultra-Portable' to StarTech box.
The final goodie on this StarTech box is that provided the box is plugged in to the mains the front USB port can be used to charge any USB device be it Notebook or SmartPhone or anything else that takes power from USB via a cable.
This niche product is likely to become more mainstream as 'Ultra-Portable' devices take off.
The StarTech USB-C Docking Station for Laptops – Hard Drive Bay – MST and Power Delivery – 4K is available direct from StarTech for £290.99 or from Amazon for £221.38, including free delivery.