Socks for Diabetics and Air Travel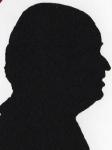 Being a diabetic I have to look after my feet, most socks tend to dig into my legs so socks with special tops are on my agenda. Here also socks for the airline traveller who – especially on long hall – need to be aware of deep vein thrombosis.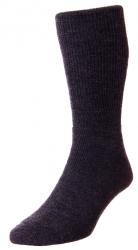 The company concerned was one of the few that pulled their finger out after the range of Christmas In July events that take my time during the recent hot summer weeks.
Their socks have had several wearing's since the event and although woollen socks in this weather may seem strange they do not tend to overheat the wearers feet.
Wool Diabetic
I found I had been sent two types of diabetic socks, first 'Wool Diabetic' that although for shoe size 11-13 fitted my size 10 feet fine. They were blue in colour with the label description Airforce which I assume relates to the colour. They have a smooth top seam and comfort top and most noticeable to me a cushioned foot which I noticed immediately on first wearing.
The mix relating to 'Wool Diabetic' is 27% wool, 63% Acrylic and 10% Polyamide. There is another small square label attached to the socks Sanitized Actifresh.
So far I have worn them and washed them four times they have kept their shape and the foot still feels cushioned.
The sock is 27cm from big toe to back of heel and 31cm from back of heel to mid way up the leg.
Diabetic Wool
The second pair 'Diabetic Wool' had a far higher wool content this was in shoe size 6-10. The colour was Charcoal but to me it was a light brown colour. They were 80% wool and 20% Polyamide. This sock is endorsed by the institute of Chiropodists and Podiatrists.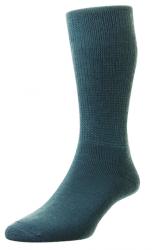 Apart from the colour difference I wore one of each for testing while around my home as if I wore them out people would think me stranger than I am. I seem to remember a game show where Noel Edmonds always wore one red and one blue sock.
Again these have had four washes and have also kept their shape and somewhat surprisingly to me have identical toe to heal and heal to mid way up the leg measurements. They also come with the same second label saying Sanitized Actifresh. The main 'Diabetic Wool' label also has the same three claims.
Flysafe Travel Socks
These I have only worn for short periods as their purpose is the exact opposite of the Diabetic offerings in that their job is to compress the legs in varying degrees they have a class one compression rating.
These are recommended for long distance travel where the likely problems from sitting for long periods is deep vein thrombosis they therefore should not be worn if you are a diabetic without medical advice.
These are described as shoe size 9-12 and were 29cm from big toe to heel and 34cm from heel to near the knee.
They are described as grey but to me they are dark blue.
More details on all socks made by H J Hall since 1882 on their website www.hj.co.uk and on the link below which relates to diabetic socks.