Roxi Jukebox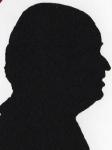 A streaming service for more than just music as you listen via a small box and either input to your TV or from the 3.5mm port on the back of the box to external speakers, it is also possible to listen via a soundbar connected to your TV.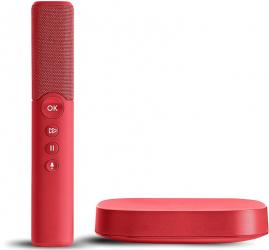 click image to enlarge
The box is either red, blue or black it is 13x13x2.5cm it has an on/off button on its top and a line of five connections under a small overhang at the back. These are 3.5mm socket for external speakers, USB, Ethernet, HDMI for connection to the TV and power input.
In the box you also get a 17.5cm long wand/microphone/controller that is 3x3cm and also the same colour to match the box, don't lost this as the box relies on it to function.
The wand is charged via USB and a short micro USB to USB lead is supplied this takes less than an hour for a full charge that should last week's dependant on use.
The only other things in the box are the power brick 13amp plug and 1 metre long lead attached and a short HDMI cable.
On the inside of the box lid is a three point Quick Start Guide that should be enough to get you playing music whatever your Genre of choice. There is no user guide not even an online .PDF file. I queried this to be told it's not needed as the product is easy to use. While everything is selected on screen via the wand/microphone/controller some of the external choices for other things are not so easy to work out.
The outside of the box makes a number of claims that are not immediately clear and perhaps a little misleading.
Music is streamed in 320kbps MP3 and dependant on your speakers will either be good/acceptable/average.
While the music is playing the screen of your TV is showing generic images that are OK it is possible to get your own images streamed assuming you let it loose on the place you store them something like Google Photos.
You can create Playlists and others have already created some that you can use.
The microphone can be used to suggest artists/groups to play and then the pointer can select a particular album or tune. Most of the time the microphone got the request correctly while I was choosing big names like Miles Davis or Bill Evans (my Genre is jazz) but when I choose less familiar names it was not so great but the wand part can input the names by onscreen keyboard if you choose this option, this is a little clunky.
In my tests the Karaoke choices were less to choose from as were the other game options of guess that tune and others. It can also play Internet radio.
I did ask the size of the ROXI music library and got this answer 'The device contains tens of millions of tracks in its library, which is updated on a weekly basis due to the high demand on the latest chart tracks. It also includes tens of thousands of radio stations from around the world and lots of soundscapes for meditation, relaxation o even a dinner party.' The price includes unlimited ad free streams for one year you can then purchase a second year for around 50% of the whole package of box-leads-controller or continues using for no extra charge but with ads.
ROXI Jukebox is available from the link below for £99.