RICOH WG-M2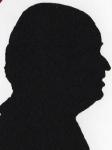 Like most people I think I can just install the battery, check it has power and then insert a Micro SD card. I go outside, the garden is not looking too bad at this time of year, shoot a few test short clips and then expect to view them.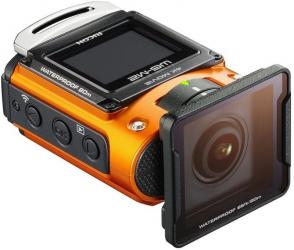 click image to enlarge
You know what I am going to say next, yes you are right, it defaults to 4K and my PC screen will not show 4K so all I got was the sound. So RTFM and find out how to work through the menus.
It is small and light at only 135grams. It is 9.5x5x3cm with the normal lens cover fitted, slightly longer with the underwater one on.
There is a small TFT on the top 3x2.3cm which can be used to check on what you are capturing assuming the unit is not fixed to say a helmet you are wearing, behind it is a clip which could mean it dangles, and can be picked up to capture still shots or movies.
There are a total of six buttons three on each side, the left side has capture, on/off and menu. The right side has back, OK and forward. The back and forward also take you through the menus and the OK accepts things.
It is possible to send content via Wi-Fi to say a SmartPhone.
The base has a tripod screw, the front the fish eye lens and the rear the double lock compartment for solid battery and any Micro SD Card you insert.
Like most I assume I know how to use a new item and only when I fail – as I did here – do I resort to the manual, normally I only get round to the manual to see if I have missed and features.
Here as stated my test videos had good sound but no video when I replayed them on my PC, they played fine on the units internal screen so that caused me to RTFM.
Once that is read changing the capture resolution solved the problem. The images and videos were fine but try to avoid getting too close as otherwise the extreme 'fish eye' cuts in and things look strange.
My underwater tests with the separate lens went as far as a local pond.
With the fitted standard lens they were far more productive and I got some interesting shots around my garden and in a local park the lens has a 204 degree of view so not only 180 degree but even partially behind it.
Choices from the menu are High Speed Movie, Still Image, Underwater Still Image, Burst Shooting, Movie, Underwater Movie, Time Lapse Movie, and Extended Movie.
Still images can be captured in 3264x2448, 3264x1840, 2448x2448, 2592x1944 and 2592x1464.
Movies 3840x2160 @30FPS, 1920x1080 @60FPS, 1920x1080 @30FPS,1280x720 @120FPS, 1280x720 @60FPS and 1280x720 @30FPS.
The sensitivity can be 200 to 1600 in Auto mode and Manual 200 to 6400. There is a small amount of internal memory 68MB so do use a fast Micro SD card if you want to capture 4K movies.
This is a camera for the outdoor enthusiast and possibly those into extreme sports.
The RICOH WG-M2 is available from Amazon priced at £269.99 as of publication date, which includes free delivery.