Pioneer DJ Speaker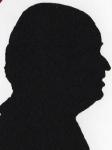 At the start of 2017 I told you about a pair of pioneer headphones, here what are described as DJ Active Monitors while they are that they are also a rather good pair of speakers for home use so even MP3 sounds can sound excellent.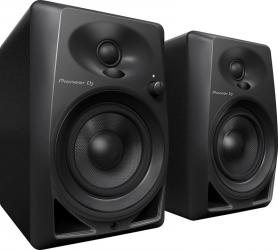 click image to enlarge
They are two way bass reflex speakers with ¾ inch tweeter and a four inch woofer. The speakers are 22.5x14.5x22cm. The total weight is just under 5 kilos.
The total power output is around 40watts.
There is a power lead that plugs into the left speaker and a connecting lead that runs from the left to right speaker which connects via crocodile clips. Also supplied is a 3.5mm to RCA lead.
While I never used them as DJ Monitors I did use them in my lounge as a pair of excellent speakers that can even make MP3 music tracks sound acceptable and .WAV or CD audio sound amazing.
The back of the left speaker has both RCA and 3.5mm inputs which means most sound outputs can be coped with in one way or another.
The two units are the same size and while the left is somewhat heavier the only noticeable difference from the front is a small volume knob and accompanying LED between the tweeter and woofer.
A good part of the weight difference is for the mains input on the rear anyone moving around will cheer the lack of an external power adapter to get lost or misplaced, this unit has just a standard two core cable input and above that at the back right base is an on/off flick switch.
At the top left of both speakers is where the supplied connection lead is attached by small crocodile clips. On the left speaker the two inputs a pair of RCA sockets and the 3.5mm input.
As this unit had been elsewhere before it arrived with me several items had gone adrift such as the bottom cushions that I understand are padded feet which if used at high volume levels might stop the speakers moving around, the multi-language instruction manual that I downloaded that's how I discovered there were no feet cushions and the RCA to 3.5mm cables, I had my own so they were not that important for my review.
My own speakers were hand made for me by an amateur craftsman more than 50 years ago mine are far larger but as time and technology march on these from Panasonic are much better.
The 4inch main speakers deliver more than the ten inch speakers in mine but tell me anything technology wise that still works as well fifty years on.
My trusty MP3 player was produced as it always in to get all Genre of music and music and speech an outing for all headphone and earbuds reviews so why not for the rare occasions that I get to review speakers.
There is nothing wrong with my speakers and I enjoy their sounds from my audio system but when these small DJ monitors were connected I noticed the difference but so you would expect being they are fifty years newer.
The Pioneer DM-40 DJ Speakers are available from Amazon for £147.37 including delivery.