Philips Star Wars Projector & Night Light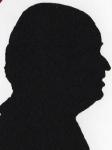 Philips have long been a big name in lighting and their range of Wake Up Lights are very popular and far more humane than an alarm clock, more recently they have had a range of infinite coloured bulbs controlled by an App here something different a kids projector with 24 images which can also be a nightlight.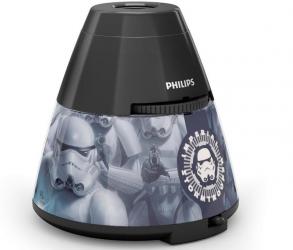 click image to enlarge
Think an upside down cone with the sharp end removed, it is 12cm tall 4.5cm across at the top and 11.5cm across at the base.
The images are on a circular disc that has eight images spaced around its edge, there are three of these they fit in the unit 5.5cm from the top and can be turned when in the unit to show whichever image you prefer.
At the base is a three position slider which in the rightmost position is a night light the central position is off and the leftmost the top facing projector.
It runs on 3x 'AA' batteries not supplied I used rechargeable one without problem. They fit in the base and it has a Philips screw fitting so no young child should be able to access the batteries.
There is a 90 degree twist on the top of the unit to be sure that the projected image is in focus which of course depends on how near or far you are from the ceiling.
This is a 'Star Wars' theme lamp and of course the 24 images supplied are all from various versions of the films as indeed are the images around the edge of the nightlight.
It should survive the odd knock or drop without damage as the unit is made of a tough plastic material
The unit is raised very slightly when whatever it sits upon by some tiny feet, as there are three of them it is quite stable.
The only easily removable thing is the 5.5cm circular disc and if your child is into eating everything they can be removed and it still works as a night light either in the conventional way or a circular beam of light on the ceiling.
While finding the price of this unit it turns out it is one of six in a series that range from £11.99 for a Princess version through Cars, Spider Man, Finding Dory and Frozen with prices just below that of the Star Wars item.
The Philips Star Wars Night Light is available at the time of publication from Amazon for £19.99.