Philips In Ear Thermometer DL8740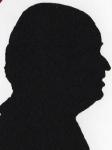 This is the last of the five recently launched Health items from Philips. In fact for most the words should be 'unhealthy items' but that would infer that the items are unhealthy when in fact it's the user who has the health issues. 'Unhealth' should perhaps be the word, when we go to see our doctor most visits will be to a 'Health' centre when surely it should be 'Unhealth' centre but that word gives my spell checker palpitations.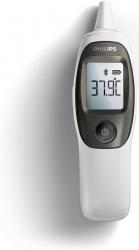 click image to enlarge
The Thermometer is 13.5cm long 3.5cm wide and 2.5cm in a slight curve it weights 75grams. It is powered by two 'AAA' batteries that are supplied.
If you have been in hospital then a similar type of device has been stuck in your ear to enable a nurse to determine your temperature that works almost instantly this takes a few seconds and if you are taking your own temperature then two small beeps tells you it has a reading.
While the under the tongue with a glass thermometer was all the rage when I was young a digital sensor replaced that in the last decade or so.
Both had their problems especially when it came to reading the results be they in Fahrenheit or Centigrade in that a line of what originally was mercury is very thin and you probably had to twist and turn this against a light source to get a reading. The more modern alternative has a tiny window which shows a figure for a short period and then maybe will change to 'LO' or 'HI' before you have a chance to focus on the reading.
I know this was the case for me recently when I had 'Flu' and my type left me with a 'LO' temperature but that is not a great deal of help when you are trying to determine how low it is. After three tries when lying in bed I got a reading so I now knew I was two degrees under.
Strangely – it may seem - the time to take your temperature is when you are well as we all vary by up to a whole degree and this can be important to know when you take your temperature next when ill to determine if it is bad or not so bad.
What you get with the Philips device is a clear easy to read display that shows the battery state with initially a white backlight so even if you take it in the dark it is easy to read and below this a figure in Celsius of say 36.4C which for me is close to normal.
After a few seconds the backlight will go out but the display still shows for a little longer. If you need to get your glasses to read it no worries as a single press of the on/off button below the display will show the last reading. If you are still happier to see your reading in Fahrenheit then a button the side can change to reading in that mode.
The 2cm wide by 3.7cm deep display shows numerals .8cm tall.
There is a small multi language User Guide but the illustrations on the inside of the box should be enough for most.
The Philips DL8740 Thermometer is available from Amazon for £34.99 with free delivery.