Philips 32inch 4K Panel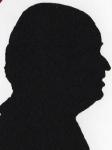 This is a large panel with high resolution that should – for most – be just plug and play, it certainly was for me, my Desktop system normally has a 21inch panel running at 1920x1080, this unit was plugged in and the HDMI lead connected and I was looking at a screen showing 4k resolution that's 3840x2160 and while icons were smaller all I had done was plugged in and switched on.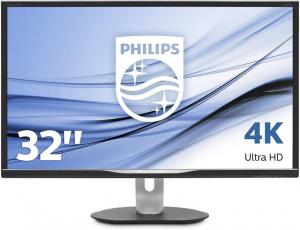 click image to enlarge
Yes it was a Windows 10 system completely up to date and the Auto display was at 150% but everything worked correctly.
For some reason some of my desktop items moved to unusual places on the screen but once put back and 'refreshed' they stayed in position, a couple of older programs – note programs not Apps – failed to scale up but nothing that made them unusable.
It is 74x44x2.5cm; the viewable screen is 70x39.5cm which gives the notional diagonal imperial measurement of 31.5inches.
It can be used portrait or landscape but the distance I will give from the desk is in landscape where the minimum distance from the desk is 5cm and the maximum is 23cm, the stand is circular at 29cm with just a small chunk cut off at the front so it measures 26cm front to back.
There is a good amount of back tilt but no forward tilt. The right side has a four port USB3 hub.
Look very closely at the right of the bottom edge of the screen surround to find five tiny touch buttons with a pin hole while LED to their right, for the screen colour and brightness options, as with most recent panels the Auto offering is excellent and only for strange lighting conditions are you likely to improve the default settings.
The rear has the four connection options on one side of the connecting arm between the stand and the panel; they are HDMI, Digital, D-SUB and Display Port. There are also 3.5mm connections for headphone and audio in for D-Sub. The other side has the mains input via a standard kettle type plug.
Working in 4K spoils you as having three or more Windows open on a Full HD 1920x1080 screen needs constant swapping, with 4K 3840x2160 means you can keep them all visible and therefore you became more productive.
According to your clarity of vision you can swap the magnification level down a bit so you really see more.
Having a high quality display means that video from a good camera/camcorder or the range of 360 degree offerings around can really be appreciated. I also looked as some stunning videos in 4k from You Tube with an Air Berlin pilots view video really wowing.
With earlier panels and earlier versions of Windows to get much beyond the slight advantage given by Display Port over Full HD meant special drivers.
Here it was simply plug and play admittedly using Windows 10 but it really was no different to just swapping one panel for another with the same resolution. I did try 1920x1080 to see if my disrupted icons reoccurred and they did not so I was soon back to 3840x2160 to make the most of my time with this panel.
The Philips 328P6 is available from Amazon for £525 including free delivery.