Philips 24inch Touch Panel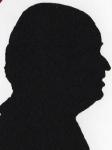 This 24inch touch panel can be used as any other panel landscape when vertical but also at any point through 90 degrees of tilt till it is landscape horizontal and with its always attached stand it remains totally stable in any position.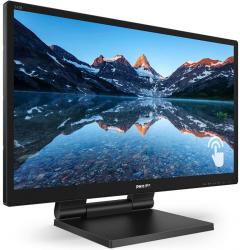 click image to enlarge
While I have reviewed over touch panels before that enable any computer – via USB lead – to become a touch computer this offering works just as well in the normal near vertical (landscape) position as it does horizontal just by pushing the panel back on its stand to a -90 degree position or indeed any amount in between vertical and horizontal and it is rock solid however you use it.
The screen on this Philips panel measures 54x33x1.7cm in a normal vertical position the stand raises it by 8cm; the stand itself is rectangular at 25x22cm. You will need some space behind it to use it in a horizontal position around 9cm should be enough. The actual viewable screen has the notional diagonal imperial measurement of 23.8 inches.
Because the panel moves back on its axis the connections that will be underneath the back overhang when in an upright position when moved through 90 degrees all connections point forward so easy to change anything.
The line of connections are DC in, headphones out, audio in for D-Sub, D-Sub (VGA), HDMI, Digital and Display Port, then the all-important USB from your PC with two USB ports one is an always on port so charging can take place providing there is power to the panel.
This is an 'A' rated power consumption panel with 21 watt input and 31 kWh/annual power consumption.
It is of course flicker free and has low blue light technology. Other factors I note it has IP54 certification for the screen for water and dust resistance as some might want to use this in a kiosk environment.
I used it as I would any other panel for the range of normal day to day office tasks including viewing some video and TV, I noticed very good black details. I also used touch during these sessions as it was attached to a Windows 10 PC and one of the initial selling points for Windows 10 was that it was designed for touch use.
In the horizontal mode it worked just as well and is made to support people standing as is meant to be good for us all to stand more rather than sit.
Sound is available and like most situations when using built in speakers is adequate but certainly no more than that as the speaker size is not designed for musical listening.
As with all panels I vainly try to improve on the 'Auto' setting delivered by the six rubberised buttons that are under the right bottom edge of the panel and as normal I failed, however this if used in certain specialised environments might be possible.
There was plenty of colour, contrast and brightness to spare for those situations.
Now the hard bit to try to find things wrong with this unit, I'm still thinking.
The stand is naturally heavier than normal but as it has to support this unit through 90 degrees of movement that is a requirement not a criticism.
For a touch unit I think the price is very keen it is available from Amazon in the UK for £283.99.