Penclic Mini Keyboard KB3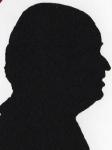 How big is yours – relax you have not suddenly gone to a different type of website – I am talking about your keyboard, 46x17x3cm would not fall into the category of large, here however I am looking at one that can be described only as small.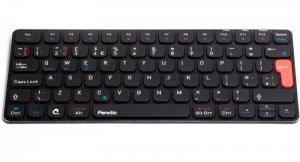 click image to enlarge
This Penclic Mini Keyboard measures 27.5x11.5x1cm, it weighs 282grams and can be used as USB or Bluetooth. So that means the amount of desk space needed is far less if indeed any.
The provided micro USB to USB lead plugs into the back of the keyboard to charge its internal battery and it can be left in place and if you plug the other end into a USB port on your PC or notebook this provides power either while the keyboard is charging or a connection so it can be used as a USB keyboard.
There is one switch to the right of the USB connection a tiny slider, towards the left off and towards the right on. A keyboard combination described in the instructions tells you how to switch between USB and Bluetooth connection.
It has 79 keys and 77 of these are full size the exception are the up and down arrow keys at the bottom right of the keyboard the < and > keys either side of these are full size.
Almost all keys including the £ are where you would expect them to be on a UK keyboard.
There are 18 keys that have a 'FN' + action as well as 7 other keys that have dual functions.
The 1cm I mentioned is at the back of the keyboard and this is only .5cm at the front so those of us old enough to remember the huge rake you used to get on a typewriter may struggle to begin with.
While I attached this to a conventional PC using USB, I also connected it to a Tablet using Bluetooth which meant the Tablet becomes far more typeable than when using the onscreen keyboard of a Tablet as you tend to be using it vertically rather than horizontally.
The User Manual is eight sides of 15x10cm that fold out to clearly explain everything and I mean everything as it has tables to explain what certain keys do in Android, iOS, Windows and OSX.
This is a true multi use product, first with a PC to allow you to either reclaim some desk space or if your PC has Bluetooth to remove it from the desk to work on your lap. With a Notebook – most recent ones have Bluetooth and so when in the office even if your Notebook has a small screen it can be used with a larger panel and you can become untethered by wires.
As for Android and iOS you get a workable keyboard without paying extra for a special keyboard and with the various shortcuts available no hunting for the correct key combinations for unusual key choices.
For me this will remain in use either on my Desktop or with various Android devices to stop the vertical typing and get back to horizontal typing.
Because of its ease of use and solid metal feel I had decided that this should receive a Highly Commended sadly because of the current low value of the pound this is now too expensive to merit this award but it is still an extremely useful tool.
The Penclic Mini Keyboard KB3 is currently available from the link below for £79.99 plus £12.50 P&P.
http://www.penclic.se/shop/keyboard/mini-keyboard-bluetooth-kb3-black-edition/