A Rugged 2-in-1 Device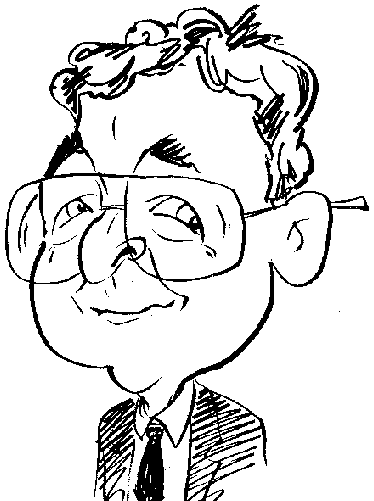 Review controls
As you might expect from its Toughbook classification the FZ-Q2 is a product that has been developed for use by professional field workers who require a device that can withstand the rigours of a workspace environment.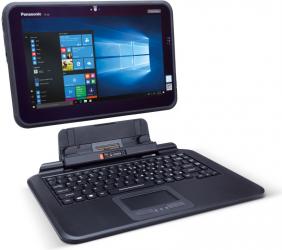 click image to enlarge
Developed by Panasonic, the FZ-Q2 combines a touchscreen element, which can double in the role of a laptop screen or tablet, with a spill resistant keypad. Whereas other 2-in-1 laptop products that I have checked out arrived as a single unit, my review sample of the FZ-Q2 was delivered boxed as two separate units packaged within their own boxes.
Encased within a rubber protective collar arrangement, the screen, or tablet, element comes packaged with various accessories including a soft cloth for cleaning the screen, a stylus initially tucked away in a holder built into the screen, serial conversion cable, tether and operating instructions booklet. You also get a two-piece power lead consisting of an AC adaptor and a cord lead. While the power lead arrangement is fairly standard, the same does not apply to its connection socket on the device. Rather than being open and clearly visible to the user, this connection socket is concealed behind a rubber flap on the right side of the unit. A second flap, positioned just above the power flap, conceals sockets for USB 3.0 and 3.5mm jack socket.
Initially I though that the reason for the flap feature might, perhaps, be to keep dirt from getting into the inside of the unit when it was being used out-of-doors but this theory did not hold water. There were other connections for HDMI, Ethernet and serial connection that were fully open to the elements located on the left side of the screen. Tucked away on the back of the screen unit is a covered compartment housing a slot for inserting a micro SDXC card which adds further to the confusion over the reason for covered and uncovered ports.
Dominating the front of the unit is a 12.5-inch display which is surrounded by a fairly wide bezel. Delivering a resolution of 1920 x 1080 for HD viewing, this screen is a 10-point capacitive touchscreen model. Despite a claim of being treated to anti-reflective technology, the screen has a mirror-like quality delivered from various angles plus it also requires regular use of the supplied cleaning cloth even when you show a preference for using the stylus, housed in a compartment located at the top right side of the screen, rather than a digit when selecting items direct from the screen desktop.
Available when used in either tablet or laptop mode, with the screen attached to the keyboard unit, is a series of mini buttons situated on the top of the screen, designated for power, volume adjustment, the start menu and various setting,. You also have access to front and rear-mounted camera facilities. The front-mounted camera, for use when capturing selfies and maybe Skype video calling, is an 8MP model while the unit mounted at the rear of the screen can capture 1080p video content and still images.
Beating at the heart of the FZ-Q2 unit is an Intel® Core™ m5-6Y57 Dual Core vPro™ processor @ 1.10GHz with 4.0MB of RAM and 8GB on board. Graphics are managed by an Intel® built-in HD graphics chip set. Versions of the product are available with 128 or 256GB SSD of internal storage. This Panasonic product provides support for Intel dual band wireless AC8260 WiFi 802.11a/b/g/n/ac, Bluetooth and is compliant with High Definition Audio.
When switching from tablet to laptop mode, you need to attach the keyboard unit to the screen. This task is achieved by sliding the screen downwards into a bracket contraption mounted on the rear of the keyboard's main body. Linking connections need to be made with left and right guide slots and a centrally positioned expansion connection bus. While this task does tend to become easier, as you might expect, with practice, initial attempts could results in some frustration. Some other 2-in-1 devices have handled this process in a more user-friendly manner. A spring clip release button, mounted on the keyboard bracket, is available when you need to separate the keyboard from the screen. The keyboard has 87 keys with a touchpad with left and right buttons plus LED status lights for Caps, Num and Scroll lock features.
Whether operating in tablet or laptop mode, approximately 15 seconds are required for various house-keeping tasks following the press of the power button to arrive at the Toughpad desktop screen used by the Windows 10 Pro operating system. While the keyboard's bracket does produce a slight bulge when in laptop mode, this did not cause too much discomfort when the FZ=Q2 was resting on my lap for bouts of typing activity. I did find that the size of the tablet (13.4-inch x 8.7-inch) was such that it was not the easiest device to manage especially when the stylus was being used.
Powering the device is a Li-ion 4740 mAh battery pack. This battery has been rated at providing 9 hours of use. However it failed to get close to this figure when running my continuous video playing test. A warning, stating battery power was down to 10%, arrived after 6.5 hours of video playing.
Aimed at the business field worker, the FZ-Q2 comes with a 3-year warranty with Business Class Support and a price ticket of £1675.00.
http://business.panasonic.co.uk/computer-product/semi-ruggedised/fz-q2