Melitta Barista Smart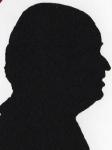 My two favourite things are 'food and drink' and 'music' both recorded and even better when live. Here I get a chance to try good quality coffee in my home and even listen to my music while relaxing with a great cup of coffee.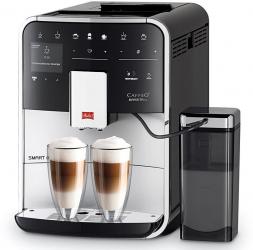 click image to enlarge
This is the largest coffee machine that has crossed my kitchen but possibly also the best and certainly the nearest to a coffee shop offering.
The Melitta Barista Smart measures 37x47x25cm and weighs over 10kilos.
Dependant on the type of coffee you want – there are two bean containers – it grinds just the right amount for one cup and then makes it, this can take less than a minute, longer if you are having a fresh milk element in your drink.
Before your first drink of a session there is a flush and after the last another before it switches off, if you are using milk this is a longer process. I found around ten drinks fills the ample drip tray and the coffee grinds capsules around the same for their container. There are no messy grounds as the grounds are quite solid and easy to dispose of.
Setup is straightforward fill the water container that is the left side of the unit, attach the separate milk container just above the coffee outlet on the front if you are going to make a milky drink or coffee with milk.
Now it's just the matter of plugging the unit in and switching on there is a short setup on the 7x5cm display that is above the coffee output, control is either up or down on the control below it and to the right of this the ability to change the strength of the drink and the amount of water – any amount between 25-200ml - and finally if you want the beans to come from either bin one or bin two.
While the types of coffee available are numerous they fall into Expresso, Café crème, Cappuccino, Latte macchiato all selected from one touch on the display, in all 21 varieties are available. The other three options for one touch are warm milk/milk froth, hot water and two cups.
It is also possible to use ground coffee through a slot in the top of the machine.
I was especially impressed with the 'Crème' which was as good as that from any coffee shop. I only have semi skimmed milk so my Cappuccino while nice were never fantastic. Should you need a morning boost a double strength double Expresso will have you bouncing around for quite a while.
Just like another recent machine review this can be remotely controlled via an Android or iOS app.
Plenty of documentation in the form of a soft cover A5 book that runs to 280 pages, 30 of these are in English and there are good illustrations as well.
While the coffee you use is up to you using freshly roasted coffee purchased in small amounts will give the best results but even if you have had the beans a while the fact that they are ground and immediately used is a plus for any cup of coffee, there is enough control over the amount of coffee and water used so you get a cup of coffee exactly as you like and then save it for your personal setting.
The Melitta Barista Smart is available from Amazon for £1199.99.