More Fantasy Mosaics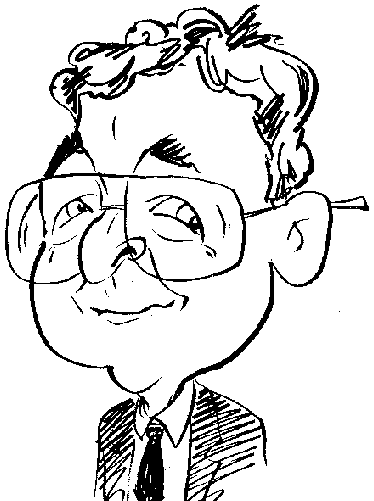 Spread over 100 levels, Fantasy Mosaic 16 is a puzzle type game that sets you the challenge of creating images made up of coloured tiles.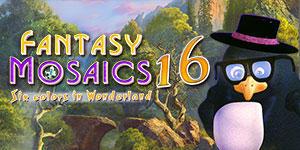 click image to enlarge
Like other titles in the Griddler genre, this latest offering from Match Gems is based on a series of grids (hence the genre title of Griddlers) and numeric clues that can be used to create the mosaic-like images so beloved by the ancient Romans. Subtitled "Six Colours in Wonderland", this game, like the previous Match Gems title (Fantasy Mosaics 15), has a penguin as a master of ceremonies who oversees the construction of a garden area as you complete numerous groups of five Griddler games.
The game's subtitle should give you the clue that this offering has mosaic images that can contain up to six different colours and has a tenuous connection to the mythical place of Wonderland. In other respects this Match Gems offering is similar to the company's previous excursion into the Griddler genre. By deciphering the numeric clues you build up mosaic images within grids.
Up to five individual profiles can be set up for various family members who enjoy playing this game. A named profile can contain the volume level settings for background music and sound effects. There are also options to play in full screen mode with a choice of the default Casual or Advanced mode which effects when blank cells are revealed in a particular colour layer.
When playing the game, most of the screen area will be taken up by the multi-layer grid. Each of the layers making up a grid will be assigned to a particular colour that come together to create a mosaic image. A series of numbers will run across the top of the grid and down the left side so that each column and row can be populated with the tiles of a particular colour. If, for example, the numbers on a particular column or row are 4, 4, 3 then this will indicate that there are two groups of four followed by a single group of three tiles in that order. At least one blank cell must be between each of the groups. While a single tile can be placed on an individual cell with a left mouse click, a group of connected cells can be selected by dragging over them with the left mouse button depressed. Blank cells you have identified can be selected with a right mouse button click.
Once a colour layer has been completed, the game will automatically switch to another colour layer with its grid and number clues. However you do not need to wait for this to happen as you can manually switch between the different coloured layers as and when the mood takes you. You simply need to click on the appropriate colour in a panel positioned to the right of the grid. Completed colours in the panel will be overlaid with a tick while the current colour being used will be identified by a paint brush. If a particular colour is not present in the current image then it will have a locked symbol superimposed on it.
Depending upon your progress in the game, tools will be available to assist you when selecting the correct cells. Each level starts off with a number of available Hints plus the number of mistakes allowed for that level. Exceed the number of allowed mistakes and the level will need to be replayed before you can continue. Initially you will also have a tool to correctly identify a single cell and later in the game you get a sunburst tool that can be used to reveal a group of cells.
Each level must be completed in turn with a reward screen showing the number of Hints used, any mistakes made and stars awarded plus a thumbnail of the mosaic image created. After every five completed grids, the penguin will make an appearance and add an element to the Wonderland garden scene. Disappointingly these elements are generally static and just stand there doing nothing. I feel that this was an opportunity missed to add some extra interest to the game.
Although the addition of colour does improve the appearance of the mosaic images, I felt that the coloured layers do reduce the difficulty of some of the more complex images. This game can be purchased and downloaded from various gaming sites including Gamehouse.com priced at $9.99. System requirements call for a 1.6GHz processor with1024MB of RAM and 85MB of hard disk space running Windows 7 and later.
http://www.gamehouse.com/download-games/fantasy-mosaics-16-six-colors-in-wonderland