LIFX Smart Bulb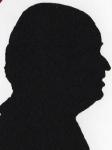 Not in itself a new item but apart from the normal screw fitting style available for this sort of Wi-Fi bulb this unit also comes with bayonet fittings far more often found in UK home and because these bulbs are thicker after the thread they often will not fit into wall fittings.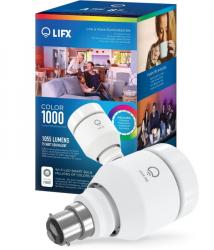 click image to enlarge
This unit plugged straight into one of my hang down from the ceiling leads and once switched on immediately gave a nice bright light far stronger than the standard 60watt bulb it replaced although the notional figure is 75watt equivalent it seemed brighter.
Next download the LIFX App from either the iOS or Android store again straightforward and just 17.1MB on my Android device.
Now the trickier bit as all these type of Wi-Fi devices insist on loading their own Wi-Fi and you need to carefully follow the instructions, once linked it then changes back to your own Wi-Fi.
Then add your bulb or bulbs and you are ready to have any colour or shade of light you wish, which is stated on the box to give 'millions of colours or whites'.
The bulb's power usage is 11W and it is an A+ energy device, which as far as I know is still currently the second most economic available to A++.
Should you have more than one of these bulbs then each has its own number but more easily it is identified by a name you give it most easily the location like Hall, Lounge, Jimmy's bedroom etc.
Later during my test I downloaded the LIFX App to my Tablet and found the installation easier as all I needed was my email address and LIFX password no messing about swapping Wi-Fi networks.
If later on you move or change your Wi-Fi network you can reset the bulb by using your standard light switch turning it on and off five times in reasonably quick succession to reset the bulb, full instructions are in the tiny multi language booklet.
I do not currently have a suitable iOS device so I can only tell you about the Android choices and options which vary only slightly between a SmartPhone and a Tablet.
The top line shows Lights, My Home and Bulbs. The second line shows Groups, All Groups and the name you have given your bulb. Below this an area shows any Integration with other Smart Devices.
If you select your bulb you get a full screen colour gamut in an upturned horseshoe shape from reds through oranges, yellows and greens to blues, pick any point to get that colour showing on your bulb.
At the base of the screen are four options, Colours, Whites, Themes and Effects. So if you highlight White you have a similar horseshoe going from White to Cream, each small movement of your cursor makes you realise just how many whites there are.
Themes show 15 different images and you can select any colour from those images. Lastly effects have seven different categories each with their own choices. Spooky, Music Visualizer, Flicker, Random, Pastels, Colour Cycle and Strobe. You have to click past a warning on the last names as this can be dangerous for Epileptics.
Now these bulbs are available in bayonet fittings I can see them becoming a far bigger seller.
The LIFX Colour 1000 is available from the link below for £59.95.
http://www.argos.co.uk/static/Product/partNumber/5657489.htm