Violet Returns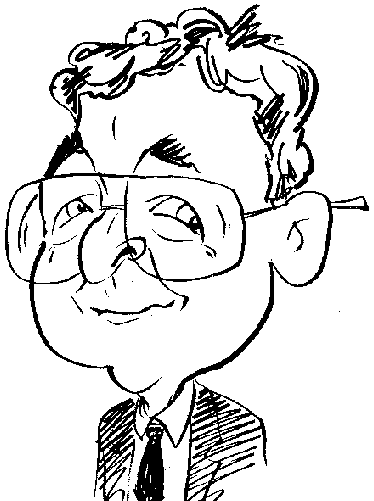 Review controls
It is story time as Violet makes a return to the Leapfrog range of learning tools for young children.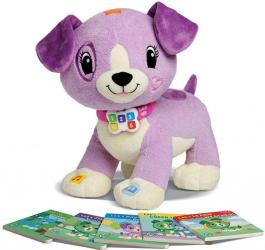 click image to enlarge
Originally making an appearance with My Pal Violet, the cuddly soft toy, named Violet, makes a return with this next Leapfrog product. Entitled Read With Me Violet, this particular offering, from the Leapfrog range of educational learning tools, is aimed at the 2 – 5 year age group. As its title might suggest, this product has been developed to help introduce the child to books, print, comprehension and early vocabulary.
While retaining the same colour scheme of violet with white paws, this cuddly soft toy, in the form of dog, has undergone a make-over. With a star on her head, outlined heart symbol on her cheek and a circular patch on her body, this story-reading Violet adopts a standing rather than sitting pose. Violet's collar now has a numeric panel rather than name tag while just her two front paws are decorated with symbols to indicate and activate functions.
Unlike the earlier Violet, this later version does not require any setting up. Violet's battery pack, with three AA alkaline batteries, is already ensconced in a compartment in Violet's belly. The battery compartment is concealed behind flaps with Velcro strips. At some stage you will need to remove the battery compartment, either to adjust the volume level switch between Low and High or replace the supplied batteries. Fortunately replacing the battery pack was much easier than with the original model.
As well as the switch for adjusting the volume level of Violet's audio output, there is a second switch on Violet's collar. This second switch allows you to turn off Violet and opt for either Story or Sleepy Time modes. It is positioned alongside the colour-coded number pad that is used when choosing from the five stories that Violet will tell the child. The stories deal with subjects such as Patterns, Rhyming, Concept, Narrative plus Learn About and are presented in books entitled Let's Go Camping, Let's Find Violet's Toy!, Let's Have a Party, Let's Cheer Up Eli!, and Let's Learn About Weather.
These five stories, which are also provided in book format and can be selected from Violet's collar, can be heard in either Story or Sleepy Time mode narrated by Violet. In Story mode, Violet will ready the story to the child with appropriate questions and prompts to the child in order to help the child's understanding as they follow the text in the small, illustrated books printed on thick card. The child will be prompted when to turn the page as each story is covered in five double sided pages.
If Sleepy Time mode is selected then some of Violet's features will be temporary disabled. This will allow Violet to be held and cuddled while she reads the chosen story as an aid to help the child drift off to sleep. You can also activate a series of lullabies by pressing Violet's right front paw.
Having just mentioned Violet's right front paw, it is perhaps the ideal moment to mention a number of other areas on Violet's body that can be used to activate features depending upon whether using Story or Sleepy Time mode. In Story mode you will get a general comment from Violet by tapping the Star on her head, Heart on her check, Circle on her back plus the bone symbol on her left paw. Violet does seem to have a reasonable store of comments to help hold the child's interest. Tapping the right paw activates one of the happy learning songs in Violet's repertoire. When Sleepy Time is selected then the Start, Heart and Circle hot spots are disabled. Pressing the left paw will activate a general comment with a lullaby delivered after a press on the right paw.
Violet will certainly appeal to its targeting audience with her appearance and the voice used to deliver comments and the story reading facilities. The five story books are well presented with subject matter that is suitable for the young listener. A quick check of Amazon.co.uk revealed that this product was priced at £29.99 although digging a little further, I came across the product priced at £23.98 with free delivery.