Huawei W1 Smart Watch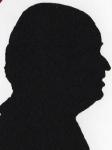 Having told you in the last few months about their excellent SmartPhone, their rather good MateBook computer I now get the chance to tell you about their watch that can bring both into focus in different ways, here the Huawei Watch.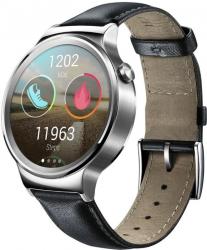 click image to enlarge
Perhaps calling it a display aid for a SmartPhone might be a more accurate description. Unusually for a SmartWatch the software it uses is AndriodWare and not anything proprietary.
The watch is 4.2x5x1cm and comes with a black leather strap.
First job is to charge it using the supplied cradle that fits onto the back and the other end of the hard wired cable to any USB port be it on a PC or to a wall socket front.
Until the first link this is a dumb unit as it takes time and date from the phone after that it keeps itself in check.
Amazingly you can choose from 40 different watch faces all are pre-loaded on the watch.
There is a small guide in the box as well as a larger manual the guide was in English however with my watch the manual was not. I tried looking online when I had a problem and found – with help – an English Reviewers Guide.
My mistake was loading the SmartPhones Bluetooth which strangely does not work with the AndroidWare App. What you need to do is turn Bluetooth on load AndroidWare which loads its own Bluetooth and all works perfectly. If I had had the full manual to start with then maybe I would not have gone wrong.
Certain things work even when your phone is off or out of range such as heart rate (pulse) the daily tracking app that counts the steps you walk, run and climb.
Most however need to link to your SmartPhone. The watch once linked will give you emails as received which are surprisingly readable on such a small screen as well as messages etc. and of course you can make and receive phone calls and even play music. You can even archive or delete emails from the watch.
Apart from the screen lighting up with the headline of the new email the watch also vibrates on your wrist to attract you.
Other features that can be viewed on your watch without even opening them on your watch are Weather, Agenda, Alarms, Google, Hangouts, Outlook, Stop Watch. Timer and my favourite, Find My Watch this last App will ring your SmartPhone so you can find where you left it.
In the box you also get a second strap (band) for those whose wrist is larger than normal.
While I have no doubt that Apple watches and those of other makers will do much the same it is very nice to be able to do everything on your wrist that normally involved getting your phone from your pocket.
Even after several weeks of use I am finding new features that I was just not aware were available.
I suspect that any watch you buy in the UK will have the full English manual and this should make you understanding of exactly what the watch can do.
You can find the Huawei W1 is available available from Amazon for £229 with free delivery.