Huawei Talkband B2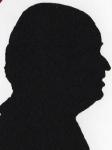 This is watch, a fitness device and it tracks your footsteps. More importantly if you wear it while in bed it tells you how well/or not you are sleeping. So what if anything makes this a better device than numerous other such offerings?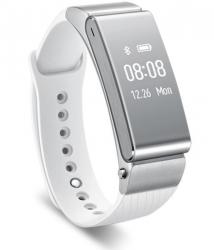 click image to enlarge
The Huawei Talkband B2 measures 4.5x2x.5cm and can be attached to anything or it comes with a wrist strap which is certainly the way I reviewed it. In this way it weighs just 30grams.
My unit was black and had a matt black rubber strap. The device clicks into the strap housing. It can fit a wrist between 16.5-22cm my wrist was in the middle of that band in the fifth of ten holes.
You need to download an App from either the iOS or Android store. A QR code is given but as it is towards the edge of a page it is not that easy to scan. I found it easier to enter Huawei in the Android Play Store.
Once downloaded you need to turn Bluetooth on and fairly soon Huawei B2 comes up.
As with most such devices you need to enter height, weight age and sex etc.
After this swipe down on the screen on the front of the unit and it should Sync and now you have a working watch which shows two icons on the top line the first to say you are in Bluetooth contact with your phone and also the battery state. The second a small AM or PM, the third is a digital time display and the fourth line is date and day.
These four lines take up 1.7cm of the convex display. If you swipe up or down while the display is showing - which can be activated by moving up and twisting your wrist towards you or by pressing the button on the right edge of the display – you can view four other screens, these show paces walked, calories burnt, hours and minutes of sleep and exercise times. On the sleep it seems more accurate than a lot of other such items.
If you leave Bluetooth on and your wrist moves out of Bluetooth contact with your phone the device vibrates so in one way it reminds you to take your phone with you. Of course on most phones leaving Bluetooth on will reduce the battery time between charges. I found it easier to sync once a day but you can even leave it longer.
I found around five days the most the battery in the unit lasted between charges with a standard micro USB to USB lead which is provided. You do however need to remove the main unit from the strap to charge, this is however easy to do with a button on either side of the face unit towards the bottom of the display.
What I have yet to mention is that it can also be placed in the ear – when out of the strap – so it can be used as an audio device – certainly something other such fitness devices do not have – it will only send calls and audio to the device when using the buds provided.
I think of Huawei as a maker of good quality SmartPhones but as yet I have not been offered any to review.
So if you like to exercise and listen to audio and or keep in touch then this could be the device for you.
The TalkBand B2 is available from the link below for £99.99 with free delivery.
http://www.amazon.co.uk/gp/product/B016DBUPFE?ie=UTF8&tag=gadge0a-21&linkCode=as2&camp=1634