Two Joby Items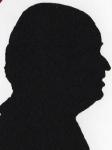 Joby are the name to think of for flexible grips. You wind it round any item to leave whatever you want held securely by a tripod screw but not all recent objects such as SmartPhones and even bicycles have tripod screws so they have designed mounts.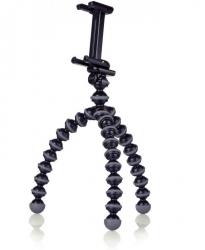 click image to enlarge
GripTight GorillaPod Stand PRO
First the grip part a very substantial three leg with ten spherical sections so the grip has every chance of doing it job whatever you need to wind it around.
Next the grip for the SmartPhone this expands to fit most sizes and makes of SmartPhone. The grip also has the female screw fitting on an adjustable fitting that can turn through 135 degrees and has its own screw tightening device.
The width of the phones it can accommodate varies from 5.5 to 10cm and this also has a tightening screw.
The legs are a maximum of 18.5cm long (untwisted) and the SmartPhone grip adds a maximum of 6.5cm to the total length.
The smallest total length I could get down to is 13.5cm.
At the same time that this was being put through its paces I am reviewing a camera that takes 360 degree images and I used the legs of this device to enable me to get images without my fingers appearing in the fish eye lens view.
As always my main concern with grips is how fast you can run and is it faster than the person who swipes your SmartPhone while you are say 50 metres away forming part of the landscape. Maybe I am too suspicious but I have to look for the downside of any item often at the cost of its many upsides.
The Joby GripTight GorillaPod Stand PRO is available from the link below for £15.69 with free delivery.
http://www.amazon.co.uk/gp/product/B009GHYMB6?ie=UTF8&tag=gadge0a-21&linkCode=as2&camp=1634
http://joby.com/griptight-gorillapod-stand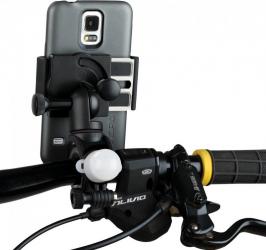 click image to enlarge
GripTight Bike Mount PRO & Light Pack
My fears of a fast running thief may be satisfied by this next product it's to help those on two wheels who will probably be sensible enough not to leave their bicycle with the SmartPhone still attached to its mount or my fears will almost certainly be fulfilled and if they do not secure their bicycle that will probably go as well.
Here there are no legs just grips either rubber for the lights or in a substantial fitment for the handlebars for your SmartPhone.
The small 2.5cm deep red and white light fitments have a rubberised band and plastic end to attach to the bicycle front and rear they require watch type batteries (not supplied) and are simply operated by a single push on the front of the fitment.
The SmartPhone fitment expands as with the unit above but the screw and fitment of this unit is rather complex. Just let's say if you ride a bicycle and require your SmartPhone to be visible such as a bicycle courier might to see maps of the area this can be fitted to your handlebars to do the job.
My cynical self has doubts as to how commercial this particular item maybe but Joby must have done their research before launching it.
The GripTight Bike Mount PRO & Light Pack is available from the link below for $59.99 without the light packs or for $40 more with them.