Encryption from Yubico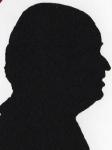 If your worry is not the actual stealing of your notebook or computer but people snooping at the data stored on it then the Yubikey could be the answer. If however your notebook or PC is stolen then without the Yubikey the thief still cannot get at the data.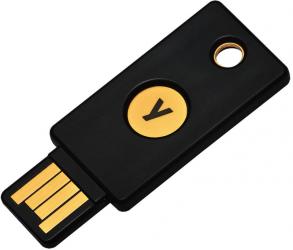 click image to enlarge
There are a number of different models I was sent two different ones that both work via a USB port.
The first a standard thin USB stick size and the second a tiny offering that could reside on a lanyard.
Perhaps best of all it can work with external services so you can use you Yubikey to add an extra layer of security to external sites where you might store your files.
The only problem I can see so far is if you lose – or have stolen – the Yubikey and the people at Yubico have thought of that by you having a second (backup) Yubikey.
The Yubikey comes in a see through 5x4.5cm package sealed with a tape that immediately says Void as soon as it is opened.
The two Yubico items I was sent are the YubiKey 4 and YubiKey 4 Nano, both are a standard USB slot.
The YubiKey 4 is 4.5x1.7x.3cm and has a hole towards the top to fit most keyrings.
The Yubikey Nano is 1.3x1.2x.3cm and has a tiny hole that you could loop through to a lanyard.
YubiKey is an extra level of security most people have a username and password even to get into their PC's the Yubikey can be used on the whole PC or maybe a single folder.
Perhaps best of all it can be used on external sites such as Google, Facebook and Dropbox where of course you are already using a different username and password to that on your PC or Notebook.
When I say full size USB I mean USB 'A' ports for those with only USB C devices such as some recent Notebook/Tablets Yubico do Yubikey 4C which is USB C but I have not actually seen one of these USB C devices.
I also see from the Yubico website that they also do a key that combines USB and NFC this is called the Yubikey Neo but again not seen by me.
Yubico do not do a micro USB version – as used by a large number of mobile phones - but as mentioned they do have the NFC version which will help most phone users.
So what exactly does the Yubikey give you, it must be present to access the site/folder/PC that it is required for.
It is rugged – it does have a battery – and is water resistant.
Simply plug it into a USB port and touch the button on the unit and that is it so once installed it doesn't add time to access whatever it is protecting.
It works on Windows, MAC, Linux and Chromebook.
Yubikey has an advantage over those who use two factor authentication using SMS as this requires network connectivity, all you do is touch the button on your Yubikey.
For me when in your home or office this is a useful device but when accessing a site outside then who knows what is happening there so the added level of security is nice.
Remember YubiKey is an added level of security on a keyring if your keyring is missing no access.
For details of all the different offering from Yubico go to the link below single key prices go from $40.