Bookshelf Speakers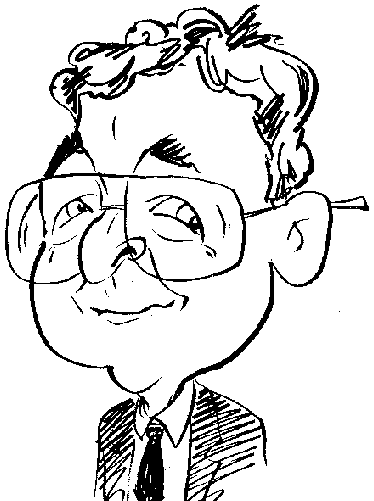 Review controls
Next under the spotlight is another speaker system from a popular audio supplier.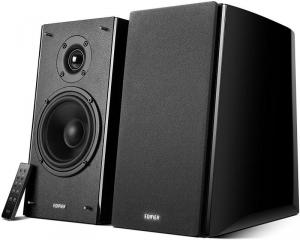 click image to enlarge
With a model number of R2000DB, the Edifier speaker system under review is a bookshelf style unit. Having looked at several Edifier products in the past I was expecting this particular speaker system to consist of a sub-woofer and satellite speakers that were of an innovative design appearance but neither expectations proved to be correct once I examined the contents of the package. Instead I found there was no sub-woofer, just a pair of rectangular box-shaped speakers plus various leads and a small remote control unit.
The two speaker units, one passive and one active, have dimensions of 252 x 174 x 289 mm (H x W x D) and, as with my review sample, are decked out in a combination of matte and piano lacquered black. With a cabinet constructed of fibreboard, each speaker has a removable front face panel made up of a plastic frame supporting a spider web type material. You will initially need to attach this decorative feature yourself but this is not an onerous tasks and requires no skill on the part of the user.
The Active speaker does the greater majority of the work with this bookshelf system acting, as it does, as the receiver module while the Passive speaker is content with its role as the amplifier unit. Located on the rear of the Active speaker is a panel housing various connection and power options, Master control knobs are provided to adjust the volume levels for input, bass and treble. The input knob can be used to adjust the input between optical and Bluetooth with a quick press. There are RCA connection sockets for attaching LINE ONE and LINE TWO from AUX inputs plus a DIN plug for linking to the Passive speaker. The rear panel also features the permanently attached power lead and an on/off switch. A small light, on the front of the Active speaker, glows green, red or blue to indicate when the respective mode of Aux, Optical or Bluetooth is the current choice.
As mentioned earlier, Edifier includes a number of leads with the R2000DB. Requiring a link to a mains power source, the permanently attached power lead measures 160 cm. Providing single and dual RCA connection leads for AUX input are leads that measure 164 cm. Also included in the package is a 142 cm fibre optic lead. Of a far longer length is the lead for connecting the Active and Passive speakers together. This lead measures 495 cm.
The R2000DB system can accept audio sources from a variety of devices either via a physical connection or Bluetooth. Using the supplied leads you can source audio from optical or AUX devices such as MP3 players. When switching between different types of sources, some care may need to be taken regarding volume levels. I found that Bluetooth input tended to be louder when similar settings were being used.
The supplied remote control unit does provide a range of options spread over its ten buttons. While each button is labelled as to its function, I really struggled to identify the barely visible symbols being used. The remote control unit needs direct line-of-sight when pointed at the front of the Active speaker in order to get a reaction.
Overall I was impressed with the appearance and quality of performance from the Edifier R2000DB. My only real criticism concerns the hard to distinguish symbols being used on this device. Pricing for this bookshelf speaker system has been set at £239.99.
Edifier R2000DB

| | |
| --- | --- |
| Total Power output | RMS 24Wx2 (treble) + 36Wx2 (bass)(DRC on) |
| Signal to noise ratio | 785 dBA |
| Frequency response | 50Hz – 20KHz (+/= 3db) |
| Input Sensitivity | Line 1 800mV+ 50mV Line 2 600mV + 50mV OPT 500mFFs + mFFs |
| Input type | RCA / Bluetooth / Optical |
| Bass driver | 5-inch (132 mm) |
| Treble driver | 25 mm silk dome tweeter |
http://www.edifier.com/gb/en/speakers/r2000db-bookshelf-speaker-bluetooth-optical-rca