Edifier M3200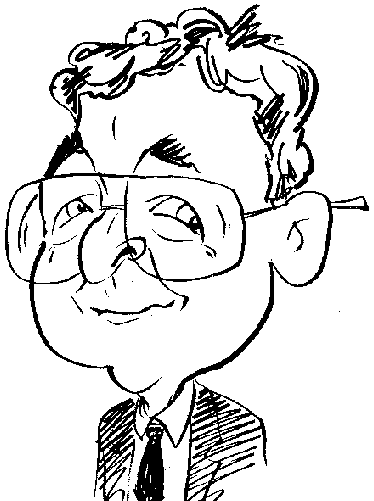 Hour glass or vase shaped are adequate descriptions of the speakers making up this next product.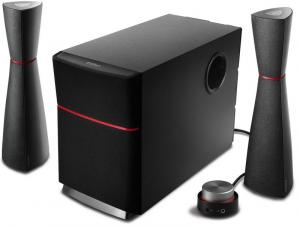 click image to enlarge
The Edifier M3200 is a 2:1 speaker system for providing the audio output from a computer or other audio input device such as an MP3 player or multimedia system. Those familiar with the Edifier approach to the design concept of its products will not be surprised to hear that shape does have a part to play with this kit especially with regards to the satellite speakers.
As the "2:1" designation implies, the M3200 kit consists of a subwoofer and two satellite speakers. All of these elements come with permanently attached leads either for power or linking between the devices. Also included in the box is a wired controller for volume issues, User Guide booklet and a standard audio lead.
The subwoofer, predominately matte black in colour, has dimensions of 155 x 238 x 330mm (W x H x D). Located on the rear of this wooden box is a plate containing various connection sockets, a volume bass control knob and an on/off power switch. There are Line-in jack sockets labelled for use by PC signal input or CD signal input, 9-pin connection for the wired controller and the two satellite speakers. Once the various connects have been made, and power turned on, you could tuck away the sub-woofer out of sight where it would be less likely to come into contact with your toes.
Unlike the rather uninspiring shape of the sub-woofer, the two satellite speakers adopt what some have describes as an hour glass figure. Personally I prefer the description of a vase used to hold a single bloom. Three-sided, with dimensions of 74 x 282 x 89mm (W x H x D), the satellite speakers feature two sides with a black lacquered effect while the front face is covered with a matte black material. Each speaker is clearly labelled so that there should be no confusion over which speaker is for the left and right output. There should also be no confusion over which output socket goes with which speaker as the sockets are coloured coded to match the plugs at the end of the attached leads running from the satellite speaker.
As mentioned earlier, the sub-woofer has two sockets for receiving audio input. Although these input sockets have been designated as for use by PC or CD, it does not seem to matter which socket should be used for which input source. So either socket could be used for the computer or other type of device. It is also possible for both sockets to be used for audio to be delivered simultaneously from different sources if you are into listening to two audio streams at the same time.
In order for this speaker system to deliver audio output, you will need to have attached the supplied controller unit. With its permanently attached lead with a 9-pin plug, the controller unit features a large circular silver volume level knob mounted on a black circular base. Once attached to a powered sub-woofer, the controller unit emits a glow from the base of the silver knob to indicate that the speaker system is ready to perform.
What might not be so obvious is the presence of two jack sockets positioned on the remote control unit's base element. These two sockets can be used to attach an AUX input device and a headset to this speaker system. While using the headphone socket turns off the output from the sub-woofer and speakers, the AUX socket can be used to deliver an alternate audio source.
The M3200 has a total power output of RMS 9W x 2 + 16W x 1. Audio output is of a reasonable quality for a product within its price range. Currently Amazon has this product listed at £68.90.