Multimedia Speaker System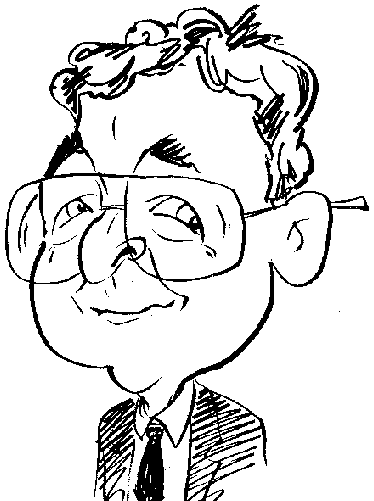 Review controls
Making a change from the usual diet of Bluetooth speakers, this next product relies totally on an audio lead connection.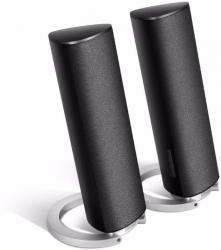 click image to enlarge
The M2280 is another member of the Edifier family of speaker units. This particular model is described as a multimedia speaker system. It consists of free-standing left and right speaker units that come with cables for connecting the speakers, power lead and an audio lead plus a small User Manual booklet offering basic instructions.
Clearly marked with Left and Right insignia, the two speakers have dimensions of 240 x 124 x 125mm (H x W x D). The speakers have been designed as black triangularly shaped columns. With a casing constructed primarily of plastic, each speaker's front face is covered with black material. The column is mounted on a silver ring shaped stand that has a diameter of 125mm. The stand provides a reasonably solid base for keeping the speaker in a steady upright position.
Setting up this speaker system is straightforward. The process involves making three connections. The right or active speaker features three connection sockets on the rear of the speaker near the base of the unit. These sockets are available for mains power, linking purposes for connect the two speaker units together, and an AUX input port. There is also a small control panel with buttons to turn power on / off and adjust the volume level in either upwards and downwards directions.
As with the connection sockets, the control panel is situated near the base of the speaker column. While this positioning is ideal for the connection sockets, I feel it would have been more convenient if the control panel had been located near the top of the column. This would have made it easier for the user to reach the controls especially as this speaker system does not have a remote facility for the benefit of users who dislike leaving the comfort of their favourite armchair when listening to their choice of music.
Linking the right and left speakers together is via a lead permanently attached to the left or passive speaker. This lead is of a generous length which will allow the separation of the two speakers by as much as 222cm. Not quite as generous is the power lead. This measures 145cm which should be sufficient for most eventualities when it comes to providing power. A red light, positioned near the front base of the right speaker, will glow to indicate when the power is turned on and being received.
This speaker system lives up to its multimedia designation by being able to provide the audio output for various devices. You can connect any device that supports 3.5mm jack socket AUX output using the supplied 160cm audio lead. You simply need to link an iPod, MP3 player, mobile phone, tablet or computer to the appropriate socket on the right speaker for the audio to be delivered. For casual listening sessions the M2280 speaker system will be more than adequate for the task when delivering audio from various sources.
Edifier M2280 Multimedia Speaker System

| | |
| --- | --- |
| Total power output | 6W x 2 (DRC on) |
| TND + N | 10% |
| SNR | ≥85dBA |
| Frequency response | 95Hz - 20kHz (±12dB) |
| Distortion | ≤0.5% |
| Input sensitivity | R/L: 700mV ± 50mV |
| Full range unit | 2¾ inch (70mm), Magnetically shielded, 8Ω |
| Dimension with stand | 124mm x 255mm x 125mm (W x H x D) |
| Weight | 0.95Kg (net) |
A quick check of the internet revealed that Amazon currently have this speaker system listed at £44. However extending my search a little further revealed other prices include one at £34.99.