Edifer Cinesound SoundBar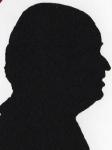 Having recently reviewed a Sounddeck and a Soundbase that both sit under your TV. I now turn my attention to a Sound Bar that can sit in front of your TV or be mounted on your wall if that is where your TV lives.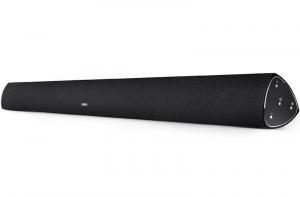 click image to enlarge
The Edifer Cinesound SoundBar measures 1metre long by 10cm tall and is 8cm deep. So first point if you are placing it in front of your TV make sure it would be raised by 10cm above whatever it sits upon. Of course it can sit elsewhere like on the floor but you will need line of site for the remote to work.
The remote is 9x3x.5cm and has 12 well marked buttons in two columns of six, it is powered by a circular watch type button battery that is supplied.
The front of the Sound Bar is covered with fabric hiding the speaker cones.
The bar has connections for Optical, RCA, Auxiliary In and Sub Woofer Out the last mentioned is an option. To the left of these is the hard wired mains lead.
On the right end are four small touch buttons for those times you cannot find the remote control.
It comes with a small multi language Guide that has the first ten pages in English. This explains the parts and the connections and even how to attach the bar to the wall. It also covers Bluetooth connection of external items.
While I was perfectly happy with the sound it gave there was less bass than with the Sounddeck and Soundbase that both had sub woofers built in.
When using it with a TV you probably want it to increase the range of sound especially for recent movies that seem to delight in having speech that cannot be heard without you being deafened by sound effects and music. To this end I subjected myself to watch several American - they are normally the worse offenders - movies and was able to follow the plot without problem certainly something that would not be possible without the Sound Bar.
The stated output of the speakers are 16watts for treble and 19watts for mid range and bass per speaker. Like most older people I have lost part of my hearing spectrum mostly at the higher end hence ladies speaking quietly being the main problem for me to understand. I know lots of other people who have the same problem. This item certainly helped but it did not have the multitude or excess of bass that both the Sounddeck and Soundbase had which often produced sounds in programs that with TV alone would not be discernible.
This unit has 'News' and 'Movie' options which do tweak the levels.
I tried input from both Optical and RCA and was happy with both.
I did try Bluetooth and got a satisfactory sound and when using it from content from a phone you of course got a vast improvement in sound quality even when it was from only MP3 music.
The Edifer CineSound B3 Soundbar is available from the link below for £209.16 with free delivery.
http://www.amazon.co.uk/gp/product/B01CUV80I0?ie=UTF8&tag=gadge0a-21&linkCode=as2&camp=1634