Devolo Magic 2 Whole Home Wi-Fi Kit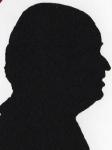 Power over Wi-Fi, range extenders and Wi-Fi Extenders are all ways to allow you to get a signal where you may not be able to do so normally, here an offering from Devolo called Magic 2 to allow places that otherwise would need a carrier pigeon to get information in or out help to allow you to stay in touch. Be it loft or basement you can now have connection.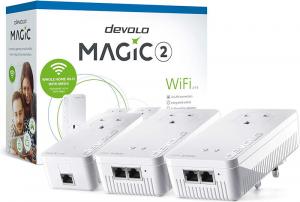 click image to enlarge
The Devolo Magic 2 Whole Home Wi-Fi Kit consists of three units which each connect to a mains outlet. First the master that needs to be placed near your Modem it is 13x6.5x5cm and has an Ethernet port on the top of the unit and a 13amp plug on the face so whatever was in that socket before you plugged in the Devolo Magic LAN can still be inserted without affecting the Devolo. The other two units are identical to each other and should be placed in different areas like maybe the attic or downstairs if your Moden is upstairs. They are 15x7.5x5cm and have two Ethernet ports on the top of the unit. They also have a 13amp plug face towards the base of the unit which means all those like me who have skirting board plugs can now use these units as they take up no more space below the plug than any other 13amp plug. There are two tiny push buttons 2.5cm down from the top of the unit.
Also in the box is a CAT 5E Ethernet cable of 1.8metres long, a multi-language health and safety guide and a single sheet in seven languages, both of these require the whole box to be lifted out as they are under a false bottom. The far more important Installation Booklet comes on the top of the package and if you read it first then there should be no problems in installation.
This can be controlled and setup from a MAC, Linux, Windows computer or from a Tablet or mobile phone running, iOS, Android or Amazon the last three via an App on the appropriate store and the first three via a download link given in the booklet. The 52 page 16x10cm booklet has twelve instructions each in seven languages and these each take two opposite pages with a clear illustration on the left side. Even though there are seven languages involved the font is clear and easy to read without the need for a magnifying glass.
Setup used to be a two person job – unless you were both fit and agile – as you used to have to press a button within a time limit from plugging one device in before a timeout occurred and if this involved climbing a couple of flights of stairs…. no longer as once one is connected it finds the second and third unit.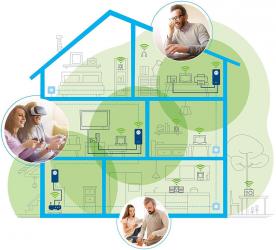 click image to enlarge
Surge strips should not be used and while a gang socket may work it is not recommended and using one may compromise speed.
The rest is taken care up by following the instructions, if you worried about people listening in to your data it is encrypted between plugs so you should be OK.
Certain devices still do not Wi-Fi and here an Ethernet cable plugged into one of the two other units works fine.
The whole premise is that if you move around with a mobile device it will automatically transfer from one point to another without you knowing about it and all you get is a faster more reliable service.
If you have a smaller home they also do a 'starter kit' with one master and one other unit.
The Devolo Magic 2 Wifi is available from Amazon for £285.24.