D-Link Outdoor Camera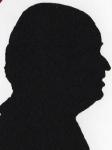 Having recently told you about a camera that looks like the Star Trek R2D2 droid that is stated as usable outside here a real outdoor offering that needs mains power and possibly Ethernet – read on to find out why I say possibly – or Bluetooth but it can also work indoors.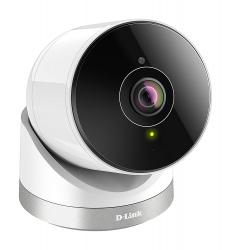 click image to enlarge
The D-Link DCS-2670L outdoor WiFi camera measures 9.5cm from back to front, 8.5cm tall and 7.5.cm from side to side, however as the both the lens and the housing can be twisted and it can be wall mounted the figures given can be in almost any combination.
It has the ability to record to Micro SD card but as with all cameras the data can be downloaded however most external cameras should be in a position that is not that easy to reach/remove for logical reasons.
A single round cable at .5cm is all that emerges from the back underside of the camera this is 40cm long so that will be the size of the hole that needs to be drilled through a wall or window frame for external fitment. This connects to a 'Y' cable one to the supplied DC lead of 3 metres that ends in an adapter mains plug, the other in a short 10cm Ethernet connection. Should you need Ethernet this can be whatever length you need (not provided) to reach your router.
Like all recent cameras it is controlled by an Android or iOS App. During install you sign up or sign in to your D-Link account, a message appears about Bluetooth and assuming your phone supports version 3.5 of it or later you probably will be able to dispense with Ethernet, I certainly could.
The App searches and finds the camera and that's it. It then gave me a live view and then all you need to do is select the areas of the view that you want to cover, remember things that move like trees or bushes will give false alerts. Areas very close to the ground where cats and foxes etc. walk will do likewise.
Unlike a lot of other cameras that demand a special Wi-Fi link this did not and once you had given your password once for your Wi-Fi it did the rest.
The next time you log in it will tell you there is a firmware update available and this does take time so go and get a cup of coffee.
The rest is up to you like most you can buy cloud backup for extended periods but if you have a micro SD card inserted the push notification will then have video of the caller so you can check it instantly. There is also possible sound link but dependant on the area this could be a two edged sword, all this and more are adjustable from within the App.
In daylight the images or video are in full colour and a 90 degree turn of your phone will give full screen landscape view. At night or on a dull day the view switches to infra-red.
I also did test it indoors where it gave satisfactory results as well. The wide angle lens - very close to 180 degrees - was very useful outside, full details available on the second link.
At the time of publication the D-Link Full HD 180 degree Outdoor Wi-Fi Camera (DCS-2670L) is available from Amazon for £99.95.
Full details of this outdoor camera can be found on D-Link's website.