Noise-Cancelling Headphones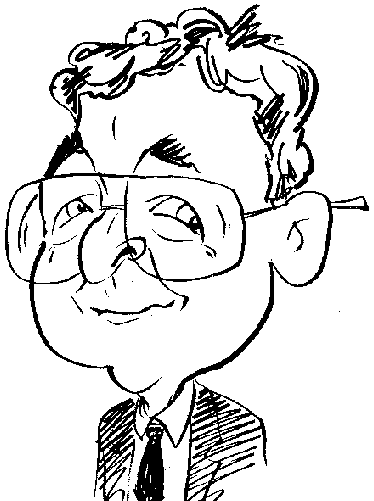 Review controls
While Currys / PC Word sell products from various manufacturers, the company also offers some of its own products such as this set of headphones.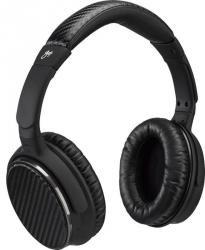 click image to enlarge
The Goji Wireless Noise-Cancelling Headphones forms part of the Currys / PC World's family of in-house products. This set of headphones is of the over-the-ear variety. Included in the box with the headphones are a micro-to-standard USB charging cable, 3.5mm audio cable, instruction booklet and a draw-string soft carry pouch for keeping everything together when not being used and in transit.
This set of headphones is totally black in colour with a mixture of matte and glossy areas apart from the silver Goji logos positioned just above the extendible sections of the headband. The black colour scheme even includes the "L" and "R" motifs indicating which cup will fit over which ear. You need to look carefully where the headband joins the cup to see their presence. There is, however, another method of detecting which cup fits over which ear and I will return to it shortly.
In its closed state, the unit's padded metal headband measures 32cm in length. It can be extended by a further 2cm at each end for a better fit. Attached to the headband are the leather covered well-padded ear cups. These ear cups can be swivelled through approximately 100 degrees left and right horizontally plus 20 degrees vertically to suit various head sizes and shapes. It was noticeable that inside each cup was a small 2 cm metal plate which I presumed was connected in some way to the headphone's noise-cancelling feature. When wearing the headphones, I was unable to feel the presence of these plates.
Arranged along the outer edge of each cup are various controls and these can be used to work out which cup is for the left and right ear. The left cup house the micro USB port for charging the headphones' internal Lithium 500mAh battery which can give up to 14 hours of use depending upon Bluetooth and Noise-Cancelling usage. The left cup also has a toggle switch to turn on / off the noise-cancelling feature plus an LED light which glows blue to indicate when this feature has been activated.
The cup for the right ear has its own collection of controls and a socket that can be used to connect to music sources, such as an MP3 player or iPod Classic, that do not support Bluetooth or when the battery power had run out. There are buttons which double as the means to increase / decrease volume level or go to the next / previous track depending upon the length of the press.
Also providing a multiple functionality is the on / off button which double as the means of turning on / off Bluetooth. Once established the headphone will automatically reconnect with the last paired device when it is switched back on. An LED light will blink blue to indicate Bluetooth is active. This button can be used to answer / end / reject / redial the last call depending upon the length and number of presses.
The right ear cup also houses the unit's built-in microphone. This allows you to conduct incoming calls to a connected smart phone via the headphones. During a call any music being played will be pit on hold until the call is ended.
As usual there is a claimed 10 metres of signal distance when using the Bluetooth facility. I was able to achieve a distance of 11 metres before the signal began to break up. However this was only possible when no obstructions were involved. As soon as a wall or two was introduced, the signal length dropped to barely 7 metres with a total loss of audio at 8 metres. Moving even further away meant an automatic Bluetooth reconnection was required to establish a signal once I moved back in range.
With a little practice, as you get use to the positioning of the relevant switch, turning the noise-cancelling feature was easy. Switching this feature on does not totally remove any extraneous sounds but it does reduce them. I was also able to notice a slight reduction in the volume level of the main music being played when the feature was active.
This set of headphones proved comfortable to use even for lengthy listening sessions. Audio quality was reasonable. According to the supplied instruction booklet, the playback facility controls might not be compatible with all smartphones but I had no problems with my Honor 5 when testing this product.
Goji Wireless Noise-Cancelling Headphones GTCBTN16

| | |
| --- | --- |
| Sensitivity | 105dB |
| Impedance | 32Ω |
| Frequency response | 20Hz – 20kHz |
| Rated input | DC 5V |
| Bluetooth interface | Bluetooth 4.0 |
| Bluetooth profiles | A2DP, AVRCP, HFP, HSP |
| Operating distance | Up to 10m |
| Battery type | Lithium 500mAh |
| Battery life | Up to 14 hours with Noise-Cancelling on |
| Charging time | 3 hours |
| Net weight | 210g |
| Price | £64.99 |
This product supplied by Currys / PC World is a nice looking product with a reasonable range of functionality that is attractively price. Currently this product is listed at £54.99.